49th Ravens Rock Car Rally
Waterford, Ireland
Re-scheduled date
11th October, 2020
Ravens Rock Car Rally
is organized by Carrick On Suir Motor Club and
runs from the Viking City of Waterford
Waterford is Ireland's oldest City and was founded in 914AD by the Vikings. Just 47 miles from Rosslare Harbour and 102 miles from
the Port of Dublin, Waterford offers Competitors and Spectators
excellent logistics.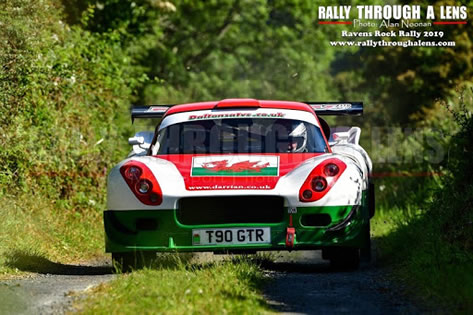 John Dalton - Gwynfor Jones
1st Welsh / UK Crew Ravens Rock Rally 2019
Ravens Rock Car Rally is a round of the Triton Showers National Championship, Suirway Group South East Stages Championship and Plasticbags.ie Southern 4 Rally Championship.
The event 49th Ravens Rock Rally will be a Mini Stages Rally, 2 Stages run 3 times with a total of 84.39 kilometers of Stages.
2019Event Format 2020 time table not currently available
Saturday 29th June

Scruitineering

Tom Geraghty Tyres, Newrath 14.00-19.00hrs.

Documentation

Dooleys Hotel, Watford

14.30-19.30hrs.

Safety Briefing

Dooleys Hotel, Watford

20.30

Sunday 30th June

Starting Time

1st Car 07.45hrs.

Finishing Time

1st Car 17.41hrs.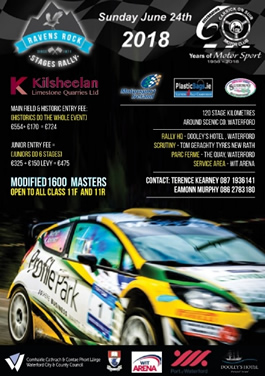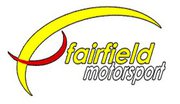 For ferry travel to the
Ravens Rock Rally
Please Contact us
Telephone
UK 01 656 725000
Overseas : 00 44 1656 725000
E-Mail info@fairfieldmotorsport.com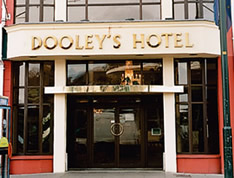 Rally Headquarters
Dooley's Hotel, Waterford

Packages available on
Merlin Wonders
click here for information
Fairfield Motorsport offering
ferry travel to the
Ravens Rock Car Rally
Fishguard to Rosslare Holyhead to Dublin
Cairnryan to Belfast