Contact Telephone UK 01 656 725000 Overseas 0044 1656 725000 E-Mail info@fairfieldmotorsport.com
Rallye Legend Boucles Bastogne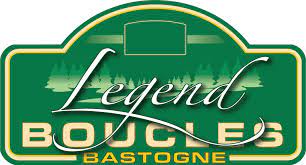 5th - 6th March, 2022
The 2022 Legend Boucles Bastogne Historic Rally
Legend Boucles Bastogne is to be run over the weekend of Saturday 5th March to Sunday 6th March, 2022, offering stages being run in the Province of Luxembourg five Special Stages run twice on Saturday and six special stages on Sunday 6th February different stages on Sunday to Saturday. Sunday's stages ' with a mixture of gravel and woods ' In total sixteen special stages, the longest being 22 kilometers.
The Legend Boucles Bastogne Rally organized by the Royal Automobile Club de Spa rally headquarters and servicing will takes place in the historic town of Bastogne and the town will come alive with the sound and fever of the legend boucles Bastogne rally !
The rally visited Bastogne for the first time in 2014 and was given a resounding warm welcome. Bastogne was not the household name in motorsport such as was Spa, and you might not be aware how important a part it played in World War II in gaining us the freedom we enjoy today.
Now run as a Historic Rally it is one of Belgium's most famous events with past winners such as Blomqvist, Snijers, Duez and Waldegard to name just a few but there is one great British Driver who claimed victory in 1977 driving a Triumph TR7 and Co-Driven by Fred Gallagher TONY POND a British win as never been recorded by any other British driver.
In December 1914 Bastogne was the centre of conflict between the American's and German. The Germans goal was to deploy the troops they had in the Ardennes to the Belgian coast centring at the Port of Antwerp thus gain superiority over the port and thwart the Allied advance.
All seven main roads in the Ardennes mountain range converged at Bastogne. The control of Bastogne was vital to the Germans.
The town of Bastogne was under siege for seven days from the 20th to 27th December, 1944.The seize of Bastogne was part of the Battle of the Bulge.
Christmas 1944 610,000 Americans, 55,000 British and 72,000 Free French were deployed in the Ardennes.
America lost 19,000 and had 47,500 wounded, 23,000 captured or missing. British losses were 200 Killed, 969 wounded and 239 missing. we don't have the Free French figures. Germany 100,000 killed, missing, captured or wounded.
There are many World War II museums to visit in Bastogne. Also you can visit Bastogne Barracks were on the 22nd December, 1944 General Anthony McAuliffe received an ultimatum from the Germans to surrender and he promptly sent back the message 'Nuts'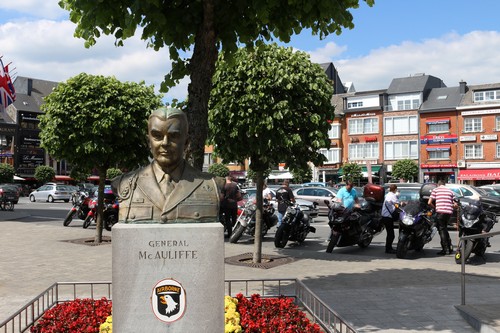 Monument to General Anthony McAuliffe
McAuliffe Square - Bastogne
The Battle of the Bulge was the last major German offensive of World War II and was dirty even by German standards, German Colonel Peiper issued orders that his troops were to shot allied prisoners of War on sight. Fighting stopped in February, 1945 and by the end of April Hitler at last was dead.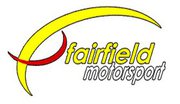 Fairfield Motorsport
for travel to Rallye Boucles Bastogne
Please contact
Telephone : UK 01 656 725000
Overseas : 00 44 1656 725000
E-Mail info@fairfieldmotorsport.com
Rally Legend Boucles Bastogne

Fairfield Motorsport 2014

Fairfield Motorsport

2011