Dragons & Eagles
This my story of the children of Maesybidia Farm, Abergorlech, Carmarthenshire, Wales and their ancestry,
Judith Morgan
Many years before genealogy became popular my grandmother spoke of her Mamgu's (Grandmother's) family. We would travel to Mamgu's birthplace in the Brechfa Valley, Carmarthenshire, Wales and my Grandmother would relate stories, then in 1972 I began to start researching family information, my how easier and quicker it is today (2009) with the dawn of the internet and goggle ! my pages are far from finish and at this time I haven't even reached Mamgu (Ann Jones 1828) in them !
I've many un-answered questions and would delight in any information even corrections if have them, please send them through to me on e-mail judith@fairfieldmotorsport.com
Dragons and Eagles
The story begins in the hills above the small seaside village of Llanstephan on the Towy Estuary in Carmarthenshire, South West Wales in the Spring of 1790.
Penpicillion Farm is the home of the Rosser family, all the family are at home and sitting around the fireside, William Rosser and his Wife Esther (daughter of John Edward of Llangynog) have enjoyed a supper in the company of their four daughters, Esther, Anne, Jennet and Mary and son John.
William is the master Penpicillion his grandfather built the current farmhouse in 1707. But Penpcillion has been in unbroken family possession since the reign of Queen Mary (1558), it changed from the family name of Jones to Rosser by the marriage of John Jones only child a daughter .John Jones of Pistyll, is recorded as a Yeoman, Army General an excellent shot, Royalist and faithful Jacobite. The Rosser family also lived at Trehyddion a few miles away, they have long connections with farming and the sea and in their descent have noble French blood, William is recorded as a Farmer and Gentleman, Mariner and Coal Merchant and he is now the proud master of Penpicillion. William's daughter Jennet is in love with a gentleman by the name of Rees Jones, it is Jennet's dearest wish that Rees will be allowed to become her sweetheart. Jennet tells her family about Rees's family, his Fathers relatives are gentleman farmers and have court connections, his Mother's Father is a gentleman farmerand two Aunts are married to Vicar's one at Abergwilli and another at Llandysul.
John Jones, Rees's father feels he should visit the Rosser family to discuss the future of the young sweethearts, the proposal is put forward to William Rosser who feels that he should discuss and seek advice on the matter with his friend Colonel Ravenscroft of Laugharne, and a letter is drafted. (see copy of letter below)
Copy of letter sent by William Rofser (Rosser) of 'Penpcillion Farm' Nr. Llanstephan, , Carmarthenshire, Wales to Colonel Ravenscroft.
The original letter is part of the George Eyre Evans collection of manuscripts kept at the National Library of Wales, Aberystwyth, Ceredigion,
Wales.
Show this to Col. Ravenscroft 17th March, 1790.
The account I have now this Rees Jones came here with my daughter Jennet the first Saturday night, and came into the house by the fire with me. I told him plain, that we cannot give her more than £100. and that was all we can do, for we have three daughters besides her and that I am desire of him to begin civil and if they depart to depart civil and not to injure one another and he answered ' we shall not ', and in about four or six weeks after
his Uncle, that is his Fathers brother called Evan Jones, came to our home and began to talk and told his business, that he came for his nephew to ask for him leave to come to court our daughter and told his Father and Mother have two tenements of land of their own and a s good a tenement on their estate and on such bragins he was going on all the evening and I told him the same as I told Rees his nephew in this words I told Rees he may, and begin civil and if they part to depart as civil as they came on to another at first and to tell you that £100 I can give to her for we have three daughters more to take care of them aswool as shoes; and he said, that he would talk about that now and I told him that I do let them know by times so much then.
Then on that day when you Sir and Mr. Hugh Evans been to walk between the two Lordships that was the day the young man desired me to come up to see their estate, that his Uncle Evan would come down to pilot me and my son up to his Fathers house to try to settle and be married. Then I asked Jenny was she willing to do that, she answered ' me is '. There we went to dinner and very soon and after dinner we went to look over the tenement
called 'Maesybidie' of their own or Fathers land and a tenement joined Maesybidie held by lease of Mr. Morgan Lewis called 'Bedw Bach' for £11 a year,they said it is worth more it was very large for the money and very bad and poor, but of good convenience to their farm (and there was a good meadow about two acres and a half by the side of the River Cothi were is plenty of trout's, they took in a hallowed up of a pool 36 dozen trout's at once), and the next morning after breakfast we went to Mothers estate to see the good ground over a great mountain to the tenement called 'Lettyllwynwhith' they showed to me where it reach, I though it was about 3 or 11 miles in length, but, they said it was about 2miles from River Cothi it runs from South and by East to North and by West and could not agree then, for they was for £200 for her, but, then I offer them £100, they could not agree, but, they promise to come down a fortnight hence and to have the Marriage Settlement to be read and so they did, and David Davies got the deed and bring it to our house and read it over so fast I could not make much sense of it, but I promise then a £115 with her and I must have Mr. Davies to come with the deeds I said to Col. Ravenscroft to be read and if it was not to have it in the same manner as they have it I am willing; also, I was not but we went to Llanstephan, Mr. William Moars to read it and he told Davies and me that no lawyer can make a good now settlement until the life of his Father and Mother expired and he desired to know who will be the heir at their deceased, then the finer nor recovery breaks his settlement it is a stanch one and the answer I gavethem that I give some money upon the account of the procent deed and about this I suppose he put her up.
And about 9 O'Clock at night Rees Jones came here Friday on the 19th March, 1790 and said that his Father and Mother was to give and settle the fourth part of Lettyllwynwhith that is Mothers land if I William Rofser was to my daughter Jennet of my deceased the sum of eighty pounds which January 10th.
...........................................................
Arrangements go forward and John Jones travels to Penpicillion with his brother Evan, they meet the Rosser family and discuss the young couples future, there is difficulty in agreeing the dowry, John wants more than William wishes to offer, however agreement is reached that the couple can start their courtship.
Rees and Jennet would have wished for greater progress but courtship is the best they are offered and it will be nearly two years hence before their marriage takes place.
Six weeks after the first visit Rees's Uncle Evan returns to Pencpicillion to discuss matters further with William, he tells William of his brother and sister-in-laws wealth, but William tells him that £100 dowry was the most he could offer, Jennet was not his only daughter he has three more daughters to provide for, Evan asks William to visit his brothers and arrangements are made.
Evan arrives at Penpicillion to pilot William Rosser and his son John to their visit of Rees Jones and his family, the journey takes the two gentleman and Jennets brother John through the bustling market town of Carmarthen out onto the Llandielo road and on onto Nantgaredig were they leave the main road and start their journey along the beautiful Brechfa Valley to Abergorlech, they arrive at Maesybidiau in time for
dinner, it has been a long day.
After eating dinner William and his son John are shown the lands of Maesybidiau, Bedw Bach, the lands border the River Cothi, and have a hallowed pool which took in 26 dozen trout at once. Night fall came at it was time to site around the fire and enjoy each others the company before bed.
Maesybidiau was a different style farm to Penpicillion, it was a Welsh Long House with a thatched roof, Penpcillion was a modern farm less thana hundred years old making it a hundred years younger.
The guests were given the best bedroom which had been used by a Welsh Prince and it was said that his ghost sometimes still visited. The Jones's had a long and proud ancestry they descended from Urien a Knight of the Round Table and the Sir Rhys ap Thomas who fought alongside Henry VII at Bosworth Field thus helping Henry win the Crown of England which was the beginning of the Tudor dynasty. Their
home represented their standing and had been used as a secret religious meeting house during the reformation.
In the morning William and his son John were taken to see Rees's Mother estate 'Lettyllwynwhith' after all this showing off of his wealth John Jones felt that William should increase the dowry to £200. William could not agree, he again offered £100. and it was agreed to leave matters be for two weeks. Two weeks later the Jones's visited Penpcillion, with a marriage settlement on offer, they brought a David Davies with them who read it out to all. William Rosser later went with David Davies to show the settlement to Mr. William Moars in Llanstephan. On the 19th March, 1790 Rees Jones went to Penpicillion and told William Rosser that his Father and Mother was to give and settle the fourth part of Lettyllwynwhith on himself and Jennet, that is his mothers land if William Rosser agreed to bequeath his daughter Jennet the sum of £80. upon his death – the agreement for marriage was finally made.
On the 3rd February, 1792 Rees Jones of Maesybidiau and Jennet Rosser of Penpicillion were married at the Parish Church, Llanstephan, twenty-seven years to the day of the marriage of William and Esther (nee Edwards daughter of John Edward (died 1752)of Llangynog) Jennet's parents. The marriage was witnessed by Jennets sister Mary and Rees's Uncle John Francis of Penygraig, Abergwili. It was a day
of mixed emotions for Esther Rosser it was her wedding anniversary but William (Rosser) had died in 1791.
Rosser (Rosfer) family line : on the west wall of Penpicillion is a marker stone record it's building in 1707 by Est. Rosfer.
Est Rosfer born ? it is not clear but I believe that William died 1791
Henry Rosser - married - Matilda
e. 1600
William Rosfer – married – Esther Edwards died 03.11.1827
3rd February, 1765 Llanstephan Church
Children of William & Esther
Esther

married

John Jones

Children

William:Mary:George:

John:Esther:David

Mary is recorded in Mary Rosser's will as Mary Evans

Anne

married

John Lewis

Children

Anne Mary William Thomas Jane John & Benjamin Jane is recorded in Mary Rosser's will as having a daughter Margaret Evans

Jennet

see below

Mary (Spinster)

Heiress of Penpicillon
Jennet - married - Rees Jones of Maesybidie (Abergorlech)
born: born: 1745
died: died: 1810
Jennet & Rees married at Llanstephan Parish Church 03.02.1792
Witnessed by John Francis (Rees Jones Brother-in-Law) & Mary Rosser (Jennet's sister)
Children of Jennet and Rees Jones
Evan John Sarah William David Ricy Mary Thomas
Evan, William, Ricy & Thomas all emigrated to America
William the son of Esther & John Jones is recorded on the census records as follows :
1851 William living at Penpicillion and being born in 1813 it also records Mary Lewis born 1829 as his daughter, however I believe this to be his cousin the daughter of Anne & John Lewis who inherited like himself in Mary Rosser's will. There are also two visitors Mary Evans born 1815 and John Jones born 1813 these might well be cousins and also a servant recorded by the name of Ester Harry.
1861 William is now married to Rachel born 1833 and they have a daughter Mary born 1861 and a servant Dinah Evans.
1871 William now as three children Mary born 1861, John born 1864 and William born 1867.
1881 The family remains the same as 1871.
1891 Only William and his daughter Mary are recorded and a general servant by the name of Emily Jones.
1901 William is now 88 years of age and residing and farming Penpicillion with his Daughter Mary now recorded as Mary Elias and his granddaughter born 1897 Rachel M Elias.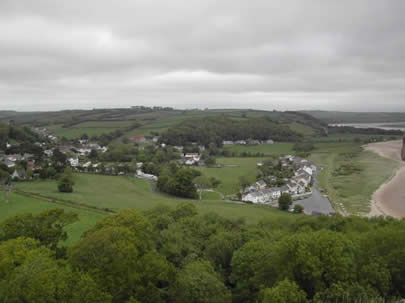 Llanstephan, Carmarthenshire (Wales)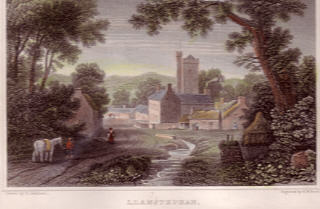 Llanstephan
I can also find in the 1851 census records a entry for Anne Lewis (Jennets's siter) showing her being born in 1784 and married to John Lewis (born 1786 – Llanfighangel Abercowin) they live at Cwm Lodge, Llanstephan and present with them are their son Benjamin born 1822, grand-daughter Esther Jones born 1840 and Margaret Lewis a visitor. John Lewis is recorded as an Agricultural Labourer and Steward.
There are other census records but these need to be verified, one I think might be for the above Benjamin Lewis but it shows his date of birth as 1824 (Llanstephan not 1822 as above) he is married to Elizabeth (1814) they have a son John born 1859 – Llanelli and he resides at 162 Swansea Road, Llanelli and works as a shoemaker employing one man.
In 1980 Owen J. Olsen complied from Ricy Howell Jones Journal ( son of Ricy D. Jones – grandson of Jennet & Rees) who visited Wales following his mission 1886 (Ricy his Father emigrated to America with the Saints (Mormons) in 1849 and he the son returned as a missionary in 1886) and from records supplied by myself (Judith Morgan) and Henry (Harry) Elmer Jones of Ocala, Flordia ( descendant of Jennet & Rees
son Evan)
Sarah born 1790 died 1840 married William Thomas Graig born 1772 they had four childrenJohn, Evan, Jane & Sarah – I would suspect that this surname should be Craig
Evan born 1793 died 1850 farmed Near Llandeilo died New York of Apoplexy buried Poughkeepsie, New York, married Ann born 1800 died 1884 born Wakefield Yorkshire, £200 dowry - We are still contact with this line and will expanded the information further on
John born 1794 died 1865 married Hettie Davies born 1791 died 1872 – this is my line and fully details further on
Mary born 1796 died 1811 spinster William born 1798 died 1835 married father's servant died Mobile, Alabama had two children Jane and Evan both of whom are recorded as deceased before 1886
David born 1800 bachelor Hettie born 1803 spinster Thomas born 1805 died 1806
Rees born 1807 died 1845 was a Justice Clerk married a milliner from London and had two children, Thomas Jefferson Jones born 1829 in London died New Jersey, America and is buried at Stanley Sta, Chatham Twp NJ. Evan Jones born 1832 London died 1854 New York City, buried Poughkeepsie died of yellow fever.
I record Eight children, Owen Olsen records Ten, Owen states on his record ' Verified from Christ Church records by HEJ ' we must agree to differ !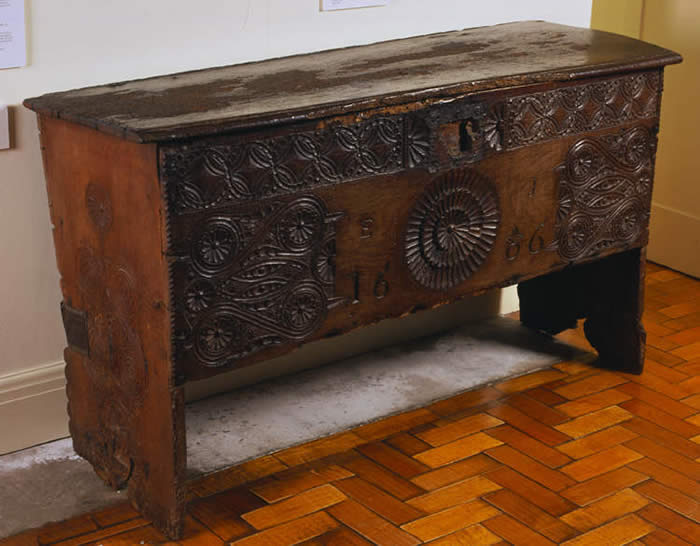 This carved oak chest may have been made as a dower or wedding chest. It is simply made, as its flat sides also form its legs. The sides and chest front are carved with flower, lunettes and scroll patterns. Carved on the front are the date '1686' and the initials 'EJ'. The carved initials may signify that this was made to mark a marriage. The chest comes from Penpicillion, a small estate near Llansteffan. Carmarthenshire items of furniture of this date are rare. The above chest can be seen in the Carmarthenshire County Museum , Carmarthen, Wales - the description of that given is from the site 'Gathering the Jewels'
Last will and testament of Esther Rosser : In the name of God Amen – I Esther Rofser of Penpicillion in the Parish of Llanstephan in the County of Carmarthen or widow, being of sound and disposing mind memory and understanding Do make and declare this my last will and testament in manner following that is to say.
I give and devise a certain field called Parkypant being part of an allotment of Common made to me from Cwmminsbach in respect of Penpcillion unto my daughter Esther the wife of John Jones her heirs and assigns for ever. I give and devise the allotment of Common being a field or parcel of land neat BaskeHay and Hill allotted to me in respect of the fields near Llanybree belonging to me, unto my Grandson William son of the said John and Esther Jones, his heirs and aforsigns for ever and I do declare that his receipt alone notwithstanding his mi------ shall be sufficient discharge for the rent thereof I give and devise to my daughter Anne Lewis wife of John Lewis her heirs and assigns a sufficient part of the lower end of Wain fach near Llanybree, not exceeding one half thereof, to build a house and make a Garden thereon she or they being at the expense of making a hedge to divide the same and afterwards keeping it in repair.
I give unto my said daughter Anne Lewis during her life an annuity of two pounds and unto my said daughter Esther the wife of John Jones during her life an annuity of two pounds, payable half yearly by equal portions at Lady day and Michaelmas day, the first payment to make on such of the days as shall first happen after my decease, such annuities to be forming from and chargeable on the Farm house and lands called Penpicillion aforesaid with the like power of dishef and sale from the recovery thereof respectively as landlords have to recover rent in arrears and I do declare that such annuities shall not be subject or liable to the debts or control of the respective husbands of my said daughters and that my said daughters receipts above notwithstanding their cover hire shall be a sufficient discharge for the same.
I give and bequeath to my son John Rofser the sum of One pound and to my daughter Jennet Jones the wife of Rees Jones the sum of three pounds to be paid them respectively in twelve months after my decease.
I give and bequeath to my granddaughter Anne Lewis the sum of five pounds to be paid her when she attains the age of eighteen years.
I give and bequeath unto my grandchildren William Mary George John Esther and David the children of my daughter Esther and to my grandson WilliamLewis son o my daughter Anne Lewis my grandson William Jones son of my daughter Jennet the sum of one pound a piece to be paid them respectively in twelve months after my decease, and I do declare that their receipts respectively shall notwithstanding their minority be a sufficient discharge to my Executors hereinafter named and as effectively as if all my said grandchildren shall have at that time had arrived at the age of twenty one years.
I give and devise all that my mefouage tenement Farm and lands called Penpicillion aforesaid the four fields at Llanybree called Parkyrheudyucha Parkyrhendyifsa Hatchy Hill and Waunfach the collage and garden in the occupancy of Hannah John adjoining Penpicillion and the allotments of Common not before given and all my other real estate whatsoever subject to annuities aforesaid unto my daughter Mary Rosfer spinster who lives with
me now and to her heirs and assigns for ever, but subject nevertheless and my will and recurring is that in case my said daughter Mary shall die singleor unmarried, or be married and have no child or grandchild living at the time of her death, she is not in that case to charge or mortgage, sell or give or dispose of the said real estate devised to her or any part thereof to any husband she may marry or to any stranger whatsoever it being my sill that shein the event of her dying without descent shall be at liberty and she is herby authorized and empowered by deed or will notwithstanding her cover hire and whether she be sole or convert to give settle and charge the said Estate unto or for the benefit of all or any of my children or their descends in such parts shares and manner as she my said daughter Mary shall think proper and in the event of her dying without issue and without making any dishonor of the said Estate, I devise the same to my own right heirs for ever Provided always nevertheless and my will and meaning is that she my said daughter Mary shall be a liberty and I do hereby authorize and empower her by a sale of a sufficient part of the said Estate so devised to her by me as aforesaid or by a mortgage in fee or by a mortgage for a term of five hundred years of the whole or of a sufficient part of the said Estate to raise and levy not exceeding in the whole the sum of one hundred pounds as soon as convenient after my decease and apply the same in aid for my personal estate in payment of my debts legacies funeral and testamentary expenses according to the discretion of my said daughter Mary and I do hereby declare and direct that my said daughter Mary Rosfer shall pay the mortgage money or sum of One hundred and twenty pounds and interest due to John Hughes Esquire and that such part of my said estate as is devised to here shall be alone chargeable herewith, so that the other part of my said estate herein before devised shall be exonerated and discharged there from and from all costs and charges in respect thereofI give and bequeath all my goods and personal estate whatsoever and the money to be raised as aforesaid unto my daughter Mary whom I appoint Sole Executor and residuary leg alee of this my last will and testament, hereby revoking all former wills and testaments and declaring this to be my last In testimony whereof I have hereunto set my hand and seal this twenty fourth day October, 1827
Signed sealed published and declared by the said Esther )
Rofser as and for her last will and testament in the ) her
presence of us who at her request in her presence ) Esther X Rosfer
And in the presence of each other have hereunto subscribed ) Mark
our names as witness as we have likewise done to a duplicate )
hereof ……….
David John Wainfwlchan
David Evans Cwmddwynant
Lewis Morris Solicitor Carmarthen
Esther died third day of November, 1827
Jennet Rosser and Rees Jones were to begin a new life at Maesybidau. Jennets sister Esther was to marry Rees possibly a brother to John and live at Llwyncelyn, having six children, William, Mary, George, John, Esther and David. Her sister Anne married John Lewis and had four children, John, Thomas, Benjamin and Mary. Her sister Mary farmed Penpcillion after her parents days and died a spinster in 1851, leaving
the farm to her nephew William Jones the son of her sister Esther and niece Mary Lewis daughter of her sister Anne. Only one of the children of Jennet & Rees are named as a beneficiary in the will of Esther their grandmother and Mary their Aunt and that is William who married his Fathers servant and emigrated to America maybe they felt he was in need and not the others. Jennet is a minor beneficiary in her Mothers will but was deceased before her sister Mary wrote her will.
In Carmarthenshire County Museum you will find a oak chest that once graced Penpcillion to view this visit is on the web site for Gathering the Jewels 'Casglu'r tylsau' the record reads ' This carved oak chest may have been a dower or wedding chest. It is simply made, as its flat sides also form its legs. The sides and chest front are carved with flower, lunettes and scroll patterns. Carved on the front are the date '1686' and the initials'EJ'. The carved initials may signify that this was made to mark a marriage. The chest comes from Penpicillion, a small estate near Llansetffan, Carmarthenshire items of furniture of this date are rare.' I made enquires and the chest was gifted to the museum in 1935 by a J. Jones.
You will note that spellings have changed throughout, we today write Rosser in the will's and on the wall stone it was spelt 'Rosfer'. Llanstephantoday is often spelt in truer Welsh 'Llansteffan' and Maesybidiau various in spelling of Maesybidie and Maesybidia.
(copy of Mary's Rosser's (Jennet's sister) Last Will & Testament below)
This is the last Will and testament of me Mary Rosfser of Penpicillion in the parish of Llanstephan in the County of Carmarthen spinster by virtue of the power given to me by the last will and testament of my Mother Esther Rofser deceased dated the twenty fourth day of October One thousand eight hundred and twenty seven I give and devise unto my Nephew William Jones who now resides with me all that messuage farm and lands with the
appurtenances called Penpicillion aforesaid ad the slang of land part thereof in the farm of Tyrbach called Llanparsby ddwyfordd and also all that cottage and garden called Penrheol now in the occupation of Mary Robert widow situated in the parish of Llanstephan aforesaid to hold unto my said Nephew William Jones and his assigns during his life subject to the payment by the said William Jones within two years after my decease of the sum of Five Pounds to each of his brothers and sister, George, John, David, and Mary and prior and after his decease I give and devise all the said hereditaments to such of the lawful child or children of my said Nephew William Jones in such shares and proportions as he by deed or will mayappoint convey or devise and in default of such disposition I give and devise the same hereditaments to such of his children if more than one equally as tenants in common and to their respective heirs and assigns for ever and if but one such child then to such only child his or her heirs and assigns for ever and. in default of such issue to such of his brothers or sister as by deeds or will may appoint convey or devise and in default the said hereditasment to such of the lawful child or children of my nephew William Jones in such shares and proportions as he by Deed or Will may appoint convey or devise and in default of such disposition I give and devise the same hereditaments to such of his children if more than one equally as servantsin common and to their respective heirs and assigns for evpresent and any future husband and so as not to be subject to his debts or control and her receipts alone notwithstanding her covertures to be sufficient discharges for the rents and profits thereof and from and after her decease I give and devisethe same of such of her lawful child or children and in such shares and proportions as she by deed or will notwithstanding her covertures may appoint convey or devise and in default of such disposition I give and devise the same of such of her child or children as shall be living at her decease equally as tenants in common and to their respective heirs and assigns for ever and if but one child then to such only child his or herheirs and assigns for ever and in default of such issue I give and devise the same to all any or either of the her brothers the said George, John and David Jones in such manner and shares as she my said Niece Mary Lewis notwithstanding her cover tune share by Deed or Will appoint convey or devise and in default of such disposition the same shall by virtue of the said will of my said Mother Esther Rofser go and be to the right heirs of the said Esther Rofser for ever.I give and devise the other undivided moiety half part or share of and in the said hereditaments unto my said Nephews George, John and David Jones and their assigns for their respective lives in equal third parts and from and after their respective deceases I give and devise their respective shares in the same hereditamnets to their respective lawful children if more than one equally as tenants in common and to the heirs and assigns of such children respectively for ever, and if but one child of the said George, John and David Jones respectively I give and devise their respective shares to such only child his or her heirs and assigns for ever and if any or either of the said George, John and David Jones shall die without issue I give and devise the share or shares of him or them so dying unto the children of the survivors or survivor of them equally if more than one and servants in common and to their respective heirs and assigns for ever and in default of issue of either of them the said George, John and David Jones the same hereditaments shall by virtue of the said will f my said Mother Esther Rosfer go and be to the right heirs of the said Esther Rofser for ever. I give and bequeath unto my nieceHester Jones and her assigns during her life one annuity or yearly sum of Five Pounds clear of all deductions whatsoever to be charged upon and payable out of the said hereditaments called Penpcillion and Penrheol with power of dishes and all for the recovery thereof as Landlords have to recover rent in arrear and to be paid to the said Hester Jones by equal half yearly payments at Lady and Michaelmas day in every year the first payment thereof to be made on such of the said days as shall first happen after my decease and to be for her sole and separate use independently and exclusively of any husbandand so as not to be subject to his debts or control and her receipt alone notwithstanding covertune to be sufficient discharges for the same. I give and devise unto niece Mary Lewis all those two slanges or pieces of land with the appurtenances parcel of Penpicillion aforesaid now in the occupation of Thomas Hilland also all those for fields closes or pieces of lands with the appurtenances called Parkyrhiwdifricha, Parkyrhewyiffd, Hatchyhill and Waunfach situate near the village of Llanybree in the said parish of Llansetphan to hold to her and her assigns during her natural life and to be for her sole and separate use free from the control of any husband and so as not to be subject to his debts or control and her receipt alone notwithstanding covertures to be sufficient discharges for the same provided that she will allow her Mother Ann Lewis to live with her, but in case she will not do so or they cannot agree then my Will is hat my said Niece Mary Lewis shall hold and enjoyduring her life as aforesaid one undivided moiety half and devise the other undivided moiety half part or share of and in the same unto her Mother the said Ann Lewis and her assigns for her life with benefit of surviourship to her in case the said Mary Lewis shall die in the life time of her said Mother and without leaving lawful issue and from and after the decease of my said Niece Mary Lewis as she by deed or will notwithstanding covertures may appoint convey or devise and in default of such disposition I give and devise the same to such her
children if more than one equally as servants in common and to their respective heirs and assigns for ever and if but one such child then to such only child his or her heirs and assigns for ever and in default of such issue I give and devise the same hereditaments unto her brother Thomas and BenjaminLewis equally and to their assigns for their respective natural lives and from and after their respective deceases I give and devise their respective shares in the same hereditaments their respective lawful children if more than one equally as tenants in common and to the heirs and assigns of such children respectively for ever and if there be but one such child of the said Thomas and Benjamin Lewis respectively I give and devise their respective shares to such only child his or her heirs and assigns for ever and in default of such last mentioned issue I give and devise the same hereditaments to her Brothers William and John Lewis equally and to their assigns during their respective natural lives and from and after their respective deceases I give and devise their respective shares in the share hereditaments to their respective lawful children if more than one equally as tenants in common and to the heirs and assigns of such children respectively for ever and if these be but one such child of the said William and John Lewis respectively I give and devise their respective shares to such only child his or her heirs and assigns for ever and in default of such last mentioned issue I give and devise the same hereditaments unto my said Nephew William Jones his heirs and assigns for ever. I give and bequeath unto my nephews and niece, William, John, Thomas, Benjamin Lewis and Jane Evans and also to Margaret the natural daughter of the said Jane Evans the sum of Three Pounds a piece to be paid and discharged by my said niece Mary Lewis out of the hereditaments so devised to her aforesaid but the same is to be paid and followed (that is to say) within the first twelve months after my decease the sum of three pounds to be paid to my said nephew William and in the same manner to each of my other said nephews and Niece and the said Margaret Evans in every following year and so that only one sum of three pounds shall be paid in each year and so on until each of them will have been paid. I give and bequeath all my Stock, crops and implants of husbandry household furniture foods chattels and effects and all other my personal estate whatsoever unto my said Nephew William Jones and my said Niece Mary Lewis absolutely in equal shares subject to the payment of my just debts funeral and testamentary expenses and I will and direct that my said Niece Mary Lewis shall reside with and bedirected by my said Nephew William Jones at Penpcillion aforesaid for the space of twelve calendar months next after my decease free from any remuneration in order to enable them the better to pay off my said bets and of declare and direct that the mortgage money of Two Hundred Pounds and interest due to Mr. Stephen Aubrey and charged on all my said real estate shall be borne and paid by my said nephew William Jones or otherwise discharged out of the said hereditaments devise in his favor as aforesaid and also that the aforesaid hereinbefore ……… my said William Jones is in full discharge of any claim or allowance on my estate for any services he may have served ………. or any offer debt whatsoever and I appoint my said Nephew and Niece William Jones and Mary Lewis Executor and Executive of this my last will and testament hereby revoking all former will or wills by me at any time here before made. In testimony whereof I the said Mary Rofser have hereunto set my hand the tenth day of October One Thousand Eight Hundred and Forty-Eight.
Signed by the above named Mary Rosfer as and for ) Signed
her last will and testament in the presence of us )
present at the same time who in her presence and ) MARY ROFSER
in the presence of each other have hereunder subscribed )
our names as arresting witnessed thereto )
illegibly signature & WJ Thomas - Clerk to Mr. Lewis Morris – Carmarthen
..............................................................................
Diocese of St. David's
In the Consistory Court
At Carmarthen
At Carmarthen the nineteenth day August 1851
William Jones of Penpcillion in the parish of Llansetphan in the County of Carmarthen, Farmer and Mary Lewis of the same place, spinster, the joint Executors in this will named,were duly sworn to the truth and faithfully performance thereof, as usual, and that the goods, chattels and credits of the deceased do not amount in value to the sum of One Hundred Pounds, and that deceased died on the Twenty Seventh day of March One Thousand Eight Hundred and Fifty One.
Before me
Thomas Bevan
Surrogate
There is much more research to be done on the Rosser's of Penpicillion and hopefully will be added into these pages.
Since the early days of my research in the 1970's the internet's arrived with google, what a wonderful invention and so much moreis coming forward and so many sharing their information.
Penpicillion sits in the hills above Llanstephan between Llanybri and Llangain, it as recently been restored to its former glory.
Many of the descends of Rees and Jennet Jones were to become travelers of the Atlantic, and over a period of some three hundred yearssomeone from each generation have left for the New World 'America' they first left six generations ago when three of the children of Reesand Jennet Jones made the then long journey to the promised land, the descendants of their son Evan are still in contact with their Welsh relatives.
Jennet told her six children that their family had been great travelers and had connections with France
Evan born 1793 died 1850 New York married Ann born 1800 Wakefield, Yorkshire died 1884 New York, Ann brought a dowry of £200.00 with her marriage – emigrated America, descents still in contact with Wales (2006) they had three sons, Thomas, Henry & William.
John born 1785 married Esther Davies of Llystin Farm and farmed Maesybidiau
Sarah born 1788 married William Thomas Craig born 1772 and had two sons and two daughters, John, Evan, Jane & Sarah.
William born 1793 married Fathers servant and emigrated to America, buried Mobil, Alabama, had two children Jane & Evan.
David born 1795 died a bachelor maybe a twin to Ricy
Ricy (Rees) born 1795 married a milliner from London, emigrated to America, had two Children, Thomas Jefferson and Evan. Worked as a Justice Clerk and died Ottumwa, Iowa – and had two sons, Thomas Jefferson born 1829 London and died in 1876 in New Jersey, USA married Rose Dunn born 1858. Evan born 1832 London and died 1854 NYC borough of Poughkeepsie of yellow fever.
Mary born 1796 and died 1811
Thomas born 1798, died 1838 emigrated America – drowned in River NYC, buried in a Vault Poughkepsie, New York State.
I continue my account with John, Rees and Jennet's second child who stayed home in Carmarthenshire and married Esther Davies, daughter of John and Margaret nee Evans of Llystin Farm, Llangfighangel-Rhos-yr-Corn. John and Esther were married on the 9th June, 1895 at St. Michael's Church, Llangfighangel-Rhos-y-Corn witnessed by Thomas Evans of Cefn Ffordd and David Davies and officiated by John Griffiths
St. Michaels Church, Llanfighangel-Ros-y-Corn is high in the mountains towards Llidard Nenog this jewel as stood for 700 years andin early June the grave yard is full of blue bells and pink London Pride, services are still be held there today (2006).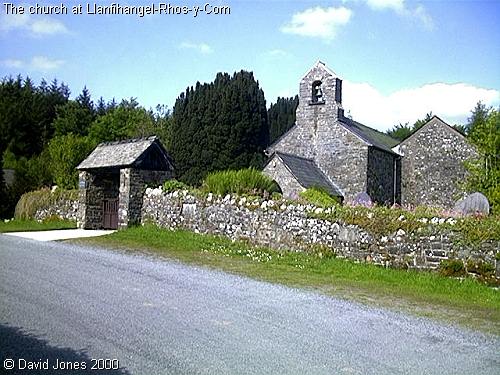 Llanfihangel-Rhos-y-Corn, Brechfa Valley, Carmarthenshire, Wales
Llystin Farm is situated a short distance out of the village of Brechfa on the road to Abergorlech and Maesybidiau, it sits in an idyllic situation on the breast of the mountain with panoramic view of the beautiful valley, it is currently farmed with beef, sheep and cereal and its fine stone outbuildings are converted into holiday cottages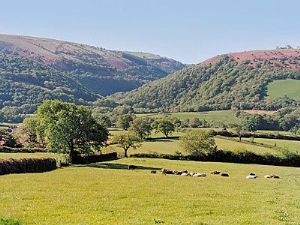 View from Llystin Farm, Brechfa
Maesybidiau today is a picturesque cottage nestling on the west bank of the Brechfa Valley alongside the Cothi River, which is renowned for its fishing. Tourist who visit the Valley are captured by its fine beauty and serenity. It is one of the Counties finest if not perfect examples of a Welsh Long House. In olden days the long house was usually split into two sections by a large open fireplace, acting as a dividing line,
on one side the family lived and on the other domestic animals were housed, this was so at Maesybidiau were the fireplace remains with an open bake oven on one side and brewers corner on the other. The doors are of solid wood with wooden latches, the floor is covered with finered and black Welsh tiles, the beams are of oak in one of the upstairs rooms are of an unusual design know as cruck architecture. It is said tobe haunted by a Welsh Prince who was once a visitor in days long ago.
The architectural interest in Maesybidiau is so fine that Dr. Y. Peate included it in his book 'The Welsh House'
The house is said to be 16th Century. In April, 1971 Major Frances Jones – Herald Extraordinary for Wales, wrote an article on Maesybidiau, which appeared in the Carmarthen Journal. I spoke to Major Frances Jones before his death asking help to find the original deeds of Maesybidiau but unfortunately he couldn't help although in his article he stated that the property had been settled on John Jones, it was
hoped that his research papers (which he had lost) would have proved the link with Johnes family of Dolau Cothi.
I am still searching for the deeds and believe them to exist somewhere, my Mother and I tried the Forestry Commission they having takenmuch of the land in the Brechfa but that to was of no avail.
In March, 1982 I received a letter from the Assistant Keeper – Department of Manuscripts and Records, The National Library of Wales LlyfrgellGenedlaethol Cymru, Aberystwyth which reads :
LLYFRGELL GENEDLAETHAL CYMRU
THE NATIONAL LIBRARY OF WALES
ABERYSTWYTH, DYFED SY23 3BU
DEW/MWJ 16th March, 1982
Dear Mrs. Morgan,
I thank you for your enquiry.
I enclose a copy of a pedigree based mainly on probate records and two pedigrees by Alcwyn C. Evans of Carmarthen (N.L.W. MSS. 12356E, p.421, and 12357E, pp. 1571-2). The dates of the children of John Jones and Anne were provided by Harry E. Jones and have not been confirmed. Evans further states that Griffith Jones was descended from Richard ab Hoedliw, but I believe that the following is correct :-
The Lord Rhys (1132-97)
'
Rhys Gryg
'
Philip
'
Hoedlyw
'
Einion
'
Richard
'
Dafydd (born around 1330)
This leaves a gap of almost three centuries between the two sections of the pedigree.
I look forward to receiving your remarks on these attempts.
Yours sincerely
D E Williams
Assistant Keeper
Department of Manuscripts and Records
Mrs. Judith Morgan
Maes Ffrwd
Coychurch Road
Bridgend Mid-Glamorgan
Please note this is no longer my address
Please note Harry E. Jones is the descendant of Evan eldest son of Rees & Jennet Rosser
The descendancy of Rees Jones, Maesybidiau parents :
Rees Jones mother was Anne Lewis the daughter of John Lewis of Llettyllwynchwith Farm, Brechfa, Carmarthenshire.
Anne was one of four girls, Mary, Anne, Sarah and Elizabeth :
John Lewis of Llettyllwynchwith
Mary married Reverend Davies of Abergwilli
Anne married John Jones (born 1715) of Maesybidia
Sarah married * John Francis, Penygraig, Abergwilli and had a son John who was baptized 21.11.1775
Elizabeth married 1st. Rev Rice Williams of Llandysul
2nd. Thomas Thomas of Upper Penybanc
her daughter Louisa married Reverend Nathaniel Rowland
Anne & John Jones had nine children
'
Sarah Rees John Mary Ann John Evan David Lewis
1764 married married 1770 married 1777 1781 1775
Jennet Rosser Esther Rosser Davies Pentre Penygraig Llettyllwynwhith
Rent £1 per day Abergwa
Evan emigrated to America
* John Francis witnessed the wedding of Rees & Jennet at Llanstephan Church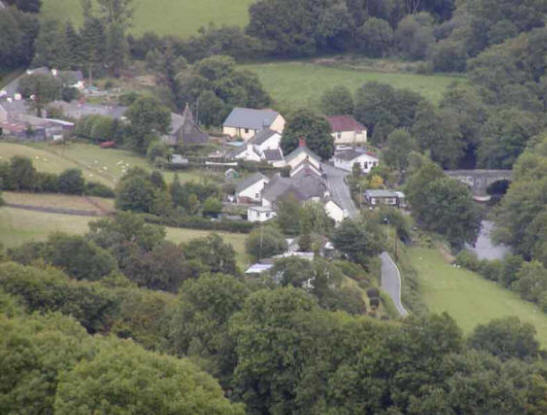 The Village of Abergorlech, Brechfa Valley, Carmarthenshire, Wales

A view of the Brechfa Valley
Brechfa Valley Carmarthenshire runs from Nantgaredig to Llansawel. In the late 60's it was threatened with flooding for water for England but a strong lobby stopped it, today it is threaten by to many English moving in and taking away its Welsh tongue and culture and wind turbines although to the later there is strong action committee fighting against them.
The South of England still craves water but hopefully Wales is now to strong a Nation for them to look our way – flood their own country.
John & Esther Jones ……………………………
John was born 1785 and died 1886
and
Esther was born 1791 and died 22.09.1872
John and Esther had Eight children :
Margaret born 1816 Evan born 1819 John born 1821
Jane born 1824 Ann born1826 Ricy born 1828
Sarah born 1834 Hetty born 1836
Before we continue on with the children of Maesybidiau born to John and Esther, I would like to tell you a little about Esther, Esther was born and lived at Llystin Farm, Llanfighangle-Rhos-y-Corn in the Brechfa Valley her parents John Davies and Margaret nee Evans, Esther's brother Daniel who was born on the 16th September, 1793 and married 7th March, 1819 Sarah Thomas at Llanegwad, Carmarthenshire they had
seven children living with them at Llystin recorded on the 1841 census and an Agricultural Servant by the name of David Lewis, Llystin was large farm and no doubt there was more day labour also employed. The children's names were John, Sarah, and Lettie, all shown as born 1826 and Anne 1829, Daniel 1830, Mary 1835, Diana, 1837.
Daniel & Sarah left Wales with the Mormons (Church of Jesus Christ of Later Day Saints) for Utah, America in 1849. They journeyed from the Brechfa to Swansea some 35miles away and boarded the Troubadour for Liverpool were they are recorded as traveling on the Buena Vista onthe 26th February, 1849 for a 55 day journey and they arrived in New Orleans on the 19th April, 1849, at New Orleans were a journey ofmuch sadness and tribulations was to begin, they boarded the Highland Mary a steam driven river boat to travel the great Missouri River forCouncil Bluffs. Their native river was the Cothi rich in Salmon and very different from the Missouri. Daniel died on the 9th May, 1849 on the Highland Mary, probably from the Cholera outbreak, Sarah and children continued their journey with the Saints.
The Buena Vista passenger list records, Dan Davis 57 Farmer, Sarah Davis (nee Thomas) 51, Dan Davies 18 (born 18th July, 1831), Ann Davies 19, Sarah Davies 22, Mary Davies 12 and Diana Davies 11, it does not show John or Lettie traveling.
Daniel Davies born 18th July, 1831 married Mary Ann Rees born 5th December 1858 in Aberdare on the 21st June, 1875 at Salt Lake shehad traveled from Liverpool in 1868
There is no record found on Ann, the only Sarah I can find is recorded as being born in Carmarthen on the 22nd April, 1825 and marryingJames Jones born Llansawel 16.08.1828 on the 31st August, 1861 he had traveled out in 1856 on the Sam Curling. Mary born 2nd December, 1835 married Thomas Daniels born 18th January, 1831 Brechfa.. Diana born 12th April, 1837, there is no record of her marrying.
Mary Daniels (nee Davies) husband Thomas Daniels was a passenger on the 1849 Buena Vista sailing, like Mary's family, he traveled with his parents Dan & Mary Daniels and his brother David (Age 13) his father was recorded as a Stonecutter, I can find no trace of his brother.
Their descendants have returned to visit the Davies ancestral home at Llystin Farm, Brechfa this information was given by the present occupants and hopefully we will be reunited with them.
I have a biography of Daniel M. Davies the son of Mary Daniels (nee Davies) and Thomas Daniels written in 1938 – Daniel M. Daniels who died June 25, 1938 at the age of 82, took a very prominent part in the development of this section of Idaho. He was mayor of Malad for three terms, served as a commissioner of Oneida County, was president of the Malad Valley Irrigating Company for six years, and when the
Malad Creamery Company was organized in 1918, he was made its first president and held the position until about four years ago when he resigned on account of ill health.
Mr. Daniels was a member of the Mormon Church and was a High Counselor of the Malad stake for man years.
Mr. Daniels was born at Brigham City, Utah December 20, 1856 a son of Thomas and Mary Davis Daniels. The Daniels and Davis familiesoriginated in South Wales; were early converts to the Mormon religion and came to Salt Lake City in 1849.
Daniel Daniels came to Malad with his parents in 1865 and he has been a resident of this valley since that time.
In his early years, he accompanied his father on freighting trips from Corinne, Utah to various Montana points. He learned how to drive oxen and guide a wagon over the rough trails and roads, and in a few years, he was a freighter on his own account. He kept up freighting to Montana points until the railroad was built to Silver Bow in 1879. When he took his last load to Silver Bow, he sold his outfit of wagons and oxen.
Returning south, he bought mules and another outfit and for several years, freighted goods into the Challis district of Idaho, to the mining camps in that locality. Mr. Daniels spent 28years in the freighting business.
Mr. Daniel's other occupations were farming and cattle raising. He was the first person to homestead in the Daniels section, and built the first house there in 1877.
Mr. Daniels was married to Miss Mary Evans Jones, March 20, 1883, who died the following year. In 1885, he married Miss Catherine E. Owens, who was born at Malad, December 27, 1868, daughter of John E. and Mary Owens.
At the time of his death he was survived by his wife and the following children : Dan Daniels, Leroy Daniels, Luther Daniels, Russell Daniels, Mrs. Steve Stayner of Malad, Mrs. D.L. Bush, Y Daniels (nee Davies) husband Thomas Daniels was a passenger on the 1849 Buena Vista sailing, like Mary's family, he traveled with his parents Dan & Mary Daniels and his brother David (Age 13) his father was recorded as a Stonecutter, I can find no trace of his brother.
Driving a team of oxen yoked joked to pull a covered wagon was something totally foreign to many of the Welsh, John Johnson Davies a pioneer who crossed a few years later described the difficulties the Welsh in his group had with this new challenge after breakfast was over we got the cattle together and tried to yoke them up I can assure you that this was quite a task for us and after we got them hitched to the wagon we started out now comes the circus and it was a good one. The Captain was watching us and telling us what to do he told us t take the whip and use it and say who a duke gee brandy and so on now the fun commenced then we went after them pretty lively when the cattle went gee too much we would run to the offside yelling at them whoa and bunting them with the stock of the whip then they would go haw
too much and we were puffing and sweating, with respect to how well the Welsh in his group managed Dan Jones wrote to William Phillips on 12th October, 1849 - The Welsh are holding up under the difficulties of this journey and are learning to drive oxen better than my expectorations and are winning praise from all the other camps of the saints for their organization their virtue and their skill and especially
for their singing, Signing is something which was far more natural for the Welsh than driving a team of oxen became, the trademark of the Welsh as they gathered around their camp fires at night.
Another noted talent of the Welsh was their poetry, Williams Lewis who had won several prizes for his verses in the old Country wrote verses of the trek.
When they – the Welsh reached the Valley John Parry was asked by Brigham Young to organize a choir with his compatriots. ' Eighty-five Welsh voices were to join him and one of those voices, was Uncle Ricy – Ricy D Jones.
The following account was found and supplied by Gwenda Lanagan (descendant of Jane Jones)
An account of the departure from Swansea was published in the Cambrian Newspaper, (the Cambrian was the first English language newspaper to be published in Wales and ran from 1804 to 1930) The Cambrian Newspaper 16th February, 1849 – Emigration to California – The Latter Day Saints : On Tuesday last, Swansea was quite enlivened in consequence of the arrival of several wagons loaded with luggage,
attended by some scores of the 'bold peasantry' of Carmarthenshire, and almost an equal inhabitants of Merthyr and surrounding districts, together with their families. The formidable party were nearly 'Latter Day Saints', and came to this town for the purpose of proceeding toLiverpool in the Troubadour steamer, where a ship in readiness to transport them next week to the flittering regions of California. This goodly company is under the command of a popular Saint, known as Captain Dan Jones, a hardy traveler, and a brother of the well know John Jones of Llangollen, the able disputant on the subject of 'Baptism' He arrived in the town on Tuesday evening, and seems to enjoy the respect and confidence of his faithful band. He entered the town amidst the gaze of hundreds of spectators and in the evening he delivered
his valedictory address at the Traders' Hall, to a numerous audience, the majority of who were led by curiosity to hear his doctrines, which are quite novel in this town. Amongst the group were many substantial farmers from the neighborhoods of Brechfa and Llanybydder, Carmarthenshire: and although they were well do so, they disposed of their possessions, to go to California, their New Jerusalem as they
deem it, where their fanaticism teaches them to believe they will escape from the general destruction and conflagration that is shortly to envelop this earth. It is due to them, however, to state, that, they are far from smitten by the mania for gold, the discovery of which has imparted to the modern El Dorado such notoriety of late. They seem animated only with the most devout feelings and aspirations which
seem to flow from no other source (judging from their conversation) than a sincere belief that the End of the World is at hand, and that their Great Captain of Salvation is soon to visit his bobl yn ngwlad y Saint (people in the country of the Saints) It is their intention, we are informed, not to visit the gold regions, but the agricultural districts, where they intend, they say, by helping one another, to reside in peace
and harmony, and to exemplify the truth of 'brotherly love,' not in name, but in practice. Amongst the number who came here were several aged men, varying from 70 to 90 years of age, and 'whose hoary locks' not only proclaimed their 'lengthened years,' but render it improbable they will live to see America; yet so deluded are the poor and simple Saints, that they believe that every one is against them, however infirm and old they may be, will as surely land in California safely, as they started from Wales. Their faith is most extraordinary. On Wednesday morning, after being addressed by their leader, all repaired on board in admirable order, and with extraordinary resignation. Their departure was witnessed by hundreds of spectators, and whilst the steamer gaily passed down the river, the Saints commenced singing a favorite hymn.
On entering the piers, however, they abruptly stopped singing, and lustily responded to the cheering with which they were greeted by theinhabitants.
The records shows ' In 1849 the ship Troubadour departed from Swansea to Liverpool, some 249 passengers then sailed on 25 Feb 1849 on the Buena Vista from Liverpool, port of arrival New Orleans on 10 of April 1849.
Some 77 of the passengers from the Troubadour sailed on the ship Hartley which docked at New Orleans o the 28th of April 1849 …… fifty four days after leaving Liverpool on March 5th 1849. On this ship the other 161 passengers were English, Scots and a few Irish.'
The first ships carrying Saints left Liverpool in 1848 five in all with a total of 754 people and in 1849 nine ships left Liverpool with a total of2078 people all bound for New Orleans and their forward journey to their Zion.
The first Mormon missionary from Zion for the Church of Jesus Christ of Latter-day Saints was James Burnham in October, 1840. The first branch was at Overton, Flintshire with 32 members, Merthyr Tydfil 1844 with six branches. Numerous publications were put out by Captain Dan Jones one such publication was called 'Prophwyd y Jubili ' (The Prophet of the Jubilee) which earned him the title 'Father of the Welsh
Mission' The first Welsh Saints to go to Salt Lake was in 1849, the recorded figure is 250 by 1852 5,000 Welsh converts had made the journey.
The immigration of the Welsh in 1849 earned them to be recorded as the first foreign speaking pioneers in Utah. My next account of their journey is taken from that, that has been written by Lynne V. Cheney Wife of the current Vice President of America (2006) (Bush Administration) of her great-great grandmother, who shared her passage the Davies family and Uncle Ricy ……… ' In 1849, twenty-two year old Katurah Vaughan,who had never been more than a few miles from her birthplace in Carmarthenshire, traveled to Liverpool, England, and boarded a ship theBuena Vista with her new husband William and 247 other Mormon emigrants, she undertook a fifty three day journey across the ocean toNew Orleans. There Katurah, pregnant now, boarded a steamer to St. Louis, then a second one the Highland Mary, bound for Council Bluffs, Iowa, a gathering place for Mormons. And then tragedy struck. There was an outbreak of cholera on the steamer, and dozens of immigrants died . One family lost three children in two days, another three in three days. A new mother died along with her nine day old son. And Katurah
Vaughan's husband died and was buried on the east bank of the Missouri . The cholera outbreak caused the captain of the Highland Mary to try to force the Mormons of the steamer when they reached St. Joseph, Missouri, but authorities there refused to receive them. When they reached Council Bluffs, even their fellow Mormons did not want to help them until a church elder made clear that God required mercy of the faithful. Katurah and others were taken in. Some months later, Katurah's son was born, and some months after that, the little boy died. In June 1852, Katurah, traveling in a train of some sixty wagons, left Council Bluffs and headed West on the Great Platte River Road. That fall, she cameto the valley of the Great Salt Lake, and there she met and married a farmer, Charles Vincent, who was also from Wales. Katurah and Charles had six children and thirty-five grandchildren, one of whom was my grandfather. I learned so much about nineteenth century Wales, where she was born, and about what the end of the Napoleonic Wars meant to tenant farmers like her father. I learned about the early days of the Mormon
Church, when Missionaries were being sent to place like Wales even as persecution in this country (America) threaten their very existence of the Latter Day Saints. And I learned about bravery and endurance.
Records show that Daniel & Sarah's son Daniel married a Mary Ann Rees on the 21st June, 1875 at Salt Lake City her records record this marriage and another marriage on 21st January, 1892 at Perry, Utah to Nelson Franklin Davis, my Mother recalls talk that Daniel returned toWales, this might have been as a Missionary and he might have well gone back out to America, one record I have found shows him dieing onthe 11th September, 1887 at Perry Box Elder, Utah. Their daughter Mary born 22nd December, 1835 married Thomas Daniels on the 20th May, 1852 at Salt Lake City like herself Daniel was from the Brechfa Valley, Carmarthenshire their son Daniel M Daniels born 20th December, 1856 at Brigham City he took a prominent role in the development of Oneida County, Idaho, he was Mayor of Malad for three terms, served as a commissioner of Oneida County, was president of the Malad Valley Irrigating Company for six years and when the Malad Creamery Company was organized in 1918 he was made its first president and held that position until he retired, he was married to Mary Evans Jones on the 20th March 1883 sadly she died one year later and he remarried in 1885 Catherine E Owens. At the time of Daniel M. Daniels death on the 25th June, 1938 he was survived by Eight children and Eight brothers & sisters.'
Lynne V Cheney
Wife of the Vice President of America
When Sarah & Daniel Davies left Wales with their children for the promised land so many miles away they took with them their Daniel's sister Esther's son Ricy Davies Jones, my great-great grandmother Ann's (Mamgu) brother, they traveled from the Brechfa to Swansea some 35miles away, were they boarded a ship for Liverpool called the troubadour at Liverpool they onward journey was aboard the Buena Vista a fellow passenger was the prominent Mormon Captain Dan Jones.
The account on previous pages by the Cambrian Newspaper records that happening.
Children of Maesybidau John & Esther Jones were to bore eight children, lost three to America and two the Industrial Valley's of South Wales.
1

Margaret

U.S.A.

Born : 1816

Died: 1856

-married-

John J Evans

2

Evan

Abergorlech

Born: 1819

Died: 1899

-married-

Sarah L Pautt

3

John

USA

Born: 1821

Died: 1906

-married-

Elizabeth Phillips

4

Jane

Glamorgan

Born: 1824

Died: 1879

-married-

John Roberts

5

Ricy

USA

Born 1826

Died 1908

-married-

1) Ann Howell

1840-1916

2) Margaret Morse

1852-1934

6

Ann

Glamorgan

Born: 1828

Died: 1911

-married-

Dafydd Thomas

Born:

Died

7

Sarah

Abergorlech

Born: 1834

Died: 1866

-married-

Joshua Thomas

8

Hetty

Abergorlech

Born: 1836

Died: 1866

-married-

John Jones
Margaret Born 1816 Died 1856 - married - John J Evans from Llanybyther and emigrated to USA in the early years of their marriage they farmed nearby her parents – at Hafod………………? Farm, Brechfa, the farm house nestles below the road on the descent into Brechfa it as a commanding and magnificent view of the valley. On the 1851 census record they are shown living there together with their children Hetty born 1844 and John 1850 and their servant Elizabeth Thomas. They also had a child that died in infancy.
Margaret & John were to follow in the footsteps of her brother Ricy and Uncles on both her Mother & Fathers side and set sail for America with the Saints, all had not be told to them about their new faith and they were to find things they did not like and after their arrival in America leave the faith. They sailed from Swansea to Liverpool and the onward journey to America was made on the Sam Curling a cotton ship which carried cotton to Europe and returned with passengers. They were five weeks on the way and two passengers died in the crossing. Landing in Boston Harbor, the family started for Utah to join the Mormons, they having accepted the faith in Wales, where it was extensively preached, but upon arriving in Jasper County they learned of the practice of polygamy and some other things which had not been mentioned in Wales by the Mormon teachers so the new religion was discarded and the family settled in Jasper County, Iowa
Margaret & John Evans son John was born on the 27th August, 1844 and died 29th January, 1933 he was buried on the 31st January, 1933 at Wyvka Cemetry, Lincoln, Nebraska he married on the 4th September, 188 at Herdon, Rawlins, Kansas Clara Belle Newton, born 31st January 1860 died 8th December, 1937 buried 11th December 1937 she was born Pittsbuurg, Pennsylvania the daughter of Thomas Peck of Newton, Ohio and Henrietta Jane nee Joyce.
They had six children, Stella born 13th June, 1889 – spinster. Chauncey born 15th February, 1891 married 1844 to Frances Axtel they had a daughter Joyce born 6th January 1946 and died 1 week later. Hetty born 3rd January, 1893 – spinster. Mounty Lee born 8th March, 1895 married Ioa Inez Mead and adopted a daughter. Locky May born 8th August, 1898 married Ray Donald Softley and adopted a daughter and Clara Belle born 7th September, 1903. There is a letter further on that John Evans Jnr. Wrote to him Uncle Ricy :
Clara Belle married on the 10th June, 1932 Roy A Lamson they had two sons
Wesley Lee born 4th October, 1934 married to Darlene Graham and William Le Roy born 5th April, 1953
Wesley Lee currently lives (2006) in California.
To tell the story of the early days of Margaret & John Evans I think is best told by their daughter Hetty who on the July 5th 1868 married Abraham Adamson : Hetty corresponded with her cousin Hetty Richards nee Thomas who was her first cousin, the daughter of her Mother Margaret sister Ann, Hetty lived in the mining village of Pontycymmer in the Garw Valley, Near Bridgend, Glamorganshire, South Wales were her Mother owned a shop in High Street. I have but one letter that Hetty Richards wrote from Pontycymmer to her cousin Hetty Adamson in America in December, 1917 and will add this in order and inbold print to be distinguished from the others. I cannot remember how I came of the letter.
In 2006 Hetty Richards as but one living blood descendant in Wales her great grand daughter Margaret Davies who lives in Penclawdd, Near Swansea, Margaret's half brother Leighton has descendants in America.
This adventurous family of mine seem to have given to America each generation we have recorded.
I find it difficult to understand other than for adventure why Ricy and later Margaret on then John went to America, they suffered much, leaving behind them comfortable and privileged lives. The working class of the Industrial Valleys & Towns of South Wales who left had only hope and little could be worse than the appalling living and working conditions that they and their families were enduring at that time, but that was not so for the Jones's their family was prosperous land owners and their living standard good.
Newton, Iowa May ,3rd 1901
Dear Cousin Hetty Richards,
Once more I take my pen to write you to let you know we are still alive and as well as usual we had a very cold winter much snow and ice, I had three falls and hurt myself very bad but am well now.
I received your Mothers photo for which I thank you very much. I sent the letter and one of them to my Brother right away I think she looks nice I remember how she looked when she was young. My Brothers eldest daughter looks very much like she did then.
I got a letter today from John November 2nd inst they are well but the prospect for a wheat crop is not good there this spring. I suppose you think I have a long time before answering your last letter but I have everything to do and time goes. We had a photo of our house taken and I send one to you and Auntie and one to your sister and hope to hear from you soon and what you think of this our home for seventeen years, it is built of wood
on the outside like most of the houses over here and plastered on the inside and papered, and painted white on the outside and the window shutters green. Arthur Roberts thought it very strange when he first came and by the way is Arthur a married man or not. Which if he is I wish you when you write to me again to write on a separate bit of paper and put it in the letter so I would know nobody else would know anything about it then. He did not say anything about a wife and I supposed he was a single man but since he went away Arnott's wife pretends to think he his married. Well I told her he has a right to for all that I know.
I got a paper from him last month he is well and do well so he says his picture was in the papers he was Judge of the children's class at the Dog Show at Rochester N.Y.
Well Dear Cousin I would like to see you but suppose I never will unless you come out here.
I said we were in our usual health we are, but I don't feel very strong and I notice my husband is getting weaker too. That is my husband and I sitting in the front of our house in the photo but it don't show us very plain. The house fronts west this view is how it looks from North West.
Most of this Town is North West of here and our farm is South East six miles. Mr. Adamson has gone out there today with two men to do some work The farm is rented but we have to have a good deal or repairing done, we have to hire it done as he can do nothing himself. Well I close with love to all.
Your affectionate Cousin
Hetty Adamson
Newton, Iowa September 1 1907
Dear Cousin
I received your welcome letters of July and was glad to know you are all well, we are in our usual health, and I got a letter John's wife written a week ago today, saying they were well and making hay that is harvesting hay, it was a week ago tomorrow for she said the girls had washed and she had churned and dressed chickens for dinner they had two men working for them and that John had sold a teem of mules for 300-50 dollars for three hundred and fifty dollars. It is very hot here now and we have had much rain but they have not had so much
out in Nebraska it so hot we can hardly live in summer and so cold in winter it is all we can do to live with good fires.
The wheat and the oats crops is not very good here this year, hay, potatoes and corn will be pretty good, if we don't have frost too soon,all kinds of fruit is not so plenty as it was last years but will and some to spare we use a great deal of fruit in this country we put it up air tight in the fall or whenever its ripe and ear it in the winter on.
September 15 – Dear Cousin, I fear that by this time you think either I did not get your letters and photo or else I have forgotten but no so, I received both and you who have always had your Mother and some of your relatives about you can not understand how glad I was to get them, your picture looks very nice and my son asked what does your husband do, my husband is a farmer when he could do anything, we have our farm yet 200 and 60 acres we sent it we have a nice big house of nine rooms in town where we have five and 2 acres of land, we keep a horse and buggy – carriage.
I am glad my dear Aunt Ann is so well of course she has lived to a good age and I hope will live many years yet. I remember my Aunts Sally and Hetty talking one day and wondering which of my Aunts I like best, I couldn't tell them and I don't know now, I know all the good times I ever seen I had with them. I have been an old women ever since, my life has not been like most women but I can always look are round and see others worse off than I am, so I am thankful.
I have not heard anything from my Uncles John and Ricy D Jones if I do I write to you, I don't know what county Pontycymmer is in nor where Neath is more than anything I would like a photo of my Aunt very much and I thank you for your kind sympathy and I am glad although we cannot talk face to face we can communicate in this way.
I was glad you can read my letters I did not get much schooling and when I was twelve years of age I could not talk any English for years and years we did not hear from there and I never knew where my Aunt Sally died or what she died of.
My brother John has worked very hard he had to work hard for others and when he got to work for himself he never stopped, they have a farm of one hundred acres and a good house and barn and all other necessary buildings on it and has it well stocked, they milk nine cows this summer, his wife is a very good woman and helps him along and he rents a hundred and sixty acres besides and farms and pastures that so you see he does some large farming, although he is not a very large man. Their children are all nice the oldest girl was 18 last June and the oldest boy is 16 then a girl 14, boy 11, girl 9, a boy 7. a girl 4 their names are, Stella, Chauncy, Hetty, Monty, Lockie, John, Leslie and Clara Belle, the last two are named for John and his wife and they call them Leslie and Belle. I sent them the first letters I got from you of course John don't remember so much about the people back there he was only six years of age when we left no wonder your dear Mother
felt bad to see us come away, she knew we had seen nothing of the world except from Carmarthen to Abergorlech.
Well there was nothing here when we come here and only a very few people my husbands people are on of the first to settle in this part of the country they had been here 10 years when we came, Newton now has about five thousand people and it used to be miles to the nearest house it is all fields and Church's all over and houses.
There is no place in Iowa that is better than Jasper County and no better soul any where than in Adamson Grove six miles south east of Newton that is where our farm is but we have to work here to make of success the same as every one else.
Sometime I will if I can send you a picture of my husband and son, my sons wife is not well has not been for some weeks, Dear CousinI dope you will be able to make this out and excuse all errors and mistakes.
My love to you and family and to your dear Mother lovingly
Hetty Adamson
PS dear cousin write again whenever you can and I will do the same good by for this time. H.A.
Newtown, Iowa January 22nd, 1908.
Mrs. Hetty Richards
Dear Cousin,
I received the souvenir card of Pontycymmer you sent me about New Year and thank you. For it gives me an idea how it looks. We have had a very fine winter the best I ever seen here, have not had more than four inches of snow at one time and that only at two or three times. But for all that there is much sickness, we are all as well as usual I did have a bad cold but am better.
I was not very well last Autumn and owe John Roberts a letter. I received a letter from Brother Johns Daughter written on the 14th inst saying they we all well and her papa and mama had been up in Hyanus, Nebraska, visiting her Uncle James from Newton, and got back on the fifth.
Arnott and his father got ready to go to visit Johns on the 21st of October but Mr. Adamson took sick the night before and Arnott went all along h could do that. But Mr. Adamson cannot travel by himself and will have to wait for warmer weather. I am glad to learn my aunt your Mother is enjoying good health, that is worth everything any time in life, more so in old age. I would be glad to get her picture I have written to John telling him about you and Aunt Anne.
The crops were not very good here last summer nor in Nebraska either, there was more fruit here than there, it has been snowing this afternoon about three inches and stopped.
Well Dear Cousin do you and my Aunt talk Welsh where your live, there is only one woman in this town who came from Wales, besides myself and can talk but very little Welsh. I talk it very well. Till fifteen years ago there was an old couple living here, John and Mary Davis who came here the same time that we did they always talked Welsh to me. We got acquainted with them on the Troubadour, between
Swansea and Liverpool. They were good friends to John and I. I made home with them after my Father died until I married. John thought there was no better woman than Mrs. Davis and I think so to.
I think every day for a month I will write to Hetty tomorrow, tomorrow I have just as much to do as today and sometimes more.
I wish you all a Happy and prosperous year, Hoping this find you well and that you will write soon.
I will close
Hetty Admason
304, S. Harrison St.
Newton, Jasper Co.
Iowa, U.S.A.
304 S Harrison St. Newton, Jasper County,Iowa, U.S.A.
December 8, 1909
Dear Cousin Hetty
I received your welcome letter two days ago and was very glad to hear from you all and to learn that my dear Aunt was still alive and reasonable well when you wrote, and hope she will continue for a long time yet. I am not surprised to get a letter from you I like yourself have been thinking of writing but failed to do so. Last September a year ago Mr. Adamason and I on the first day went out to Nebraska to where John my brother lives and did stay one week and I got a picture of him when he was about 24 years of age and had copies
taken of it, he has not had any taken lately and I will send one to you right away. I am glad your daughter is happily married and settled and that your son is doing well in School I see there are so many thing I want to tell you I am getting thing mixed.
Last September my Brother and his Wife came and stayed a week with us it was the week of our Fairs so they got to see a great many friends and acquaintances, they ought to have stayed longer but thought they could not spare time, he is a well to do farmer.
I received a card from them the 26th of November my birthday and they were well then, my husband is not any better than he was when I
wrote last, he and I had the gripe last spring very bad and I have not felt near as strong as I did the summer before, I am very will for a woman of my age 66 and do the work for Mr. Adamson. The weather has been very cold here since Sunday night freezing all the time, there is about 4 inches of snow on the ground, we had
about that much a few weeks ago but it went off in two days, we had more rain in November than usual it is very slippery now.
Arnott is living the same please and doing the same work not doing any to well.
Arthur Roberts was here last Spring he is a nice appealing young man I showed him your photo's and he said you are much stouter than I. I asked him if I look anything like his people back there and he said yes indeed you do. He did not succeed in getting a job here so went to Desmoines 38 miles west where he found a good position and better went to Rochester, N.Y. where he is now but we expect him back some day.
I slipped and fell and sprained my right wrist a few weeks ago but it almost well now,
I am very glad you have your Mother's photo and I would be very glad to get one for I am afraid is the only way I will get to see her.
Well I will close wishing you all a Merry Christmas and a Happy New Year.
Your affectionate Cousin,
Hetty Adamason
Newtown, Iowa May 26th, 1909
Dear Cousin,
I received your kind letter and was more glad than you can realize to learn that your Mother one who remembers me, is still alive and thinks of me and talks about me. I am afraid there are but few in that country who remembers me now for I am an old woman myself sixty-three. I remember you a little girl in your Mothers arms and I remember that last time, she was to see us. I went with her almost down the Brechfa and
I remember what she said to me, that is a long time ago I was twelve years of age an my Mother died in less than a year after that and we were in a strange country amongst a strange people and didn't even know the language but we go along we always paid our own expenses and kept out of bad company, although we did not have much when we left the Mormons. We have always been glad we did not go to Salt Lake for we
would have frozen in the mountains as scores of others did. We did not get here till the ninth of August and Thomas Jinkins got to Salt Lake in September and it had snowed on them twice before that.
The Winter was a very cold one and very long I think if we have stopped further East my Mother and Father both would have lived longer than they did, My Father died August 31st, 1866 and I was married July 3, 1868 and my first child was born October 27, 1869 and died November 22, 1869. It was a little boy and we called him Everett, and he one of the best and handsomest child and boy I ever seen and everybody who seen him said he was. But he took sick on the 24 of May 1886 and died on the 29th just 20 years ago now. He was suffering everything, he had peritonitis he was 16 years five months and 17 days old. Our next boy and all the one we have now, was born January 7, 1874, so is now 33 years of age, he is nothing like as handsome as Everett but is generously considered to be a fine looking man weighs over two hundred pounds. He is highly educated and chose to be a Veterinary Physician and Surgeon. He has a Veterinary Infirmary in this town and has a good practice.He was married November 28, 1900. Have not children his Wife's name was Lizzie A. Burnside his name is Arnott Abraham Adamson.
Everett had Graduated from Common Schools I have his diploma.
My Husband bought a house and had a barn built for Arnott because he is all we have and we wanted him near us.
He lives up in the business part of Town while we live in suburbs.
Your Mother gave me a little text book, the diamond text book one and a fourth inch wide and two inches long, I have it yet and I have the woman and dog my Aunt Jane gave me when she came home from Swansea, when she got Anne and Hetty The Peafoills, I wonder if your Mother remembers them, I mean the Peafoills.
I do not know much that has been going on in that country slice we left, I know my Aunties are all dead except Aunt Anne and I did now her address.
Tommy Roberts wrote me one letter after he had been back in the old country it was 12 years after he had been back unless he has been back lately, I hope to here from you often now.
The last I heard of my Uncle John was that he had to Jackson County California in 1857 and Uncle Ricy had moved to Wyoming. The last I heard a girl who was raised here lives out in Salt Lake City and she came to visit a sisters and I asked, do you know my Uncle Ricy D. Jones, and she was well acquainted with his boys and girls and when she went back told them of me and tried to get one of them who went to Washington D.C.
to stop off here and see me. But he did not. So she went to a photographers and bought a picture of the five boys and their Mother and Sisters and sent it to me and one boy in the picture the sixth, that was my uncles, my uncles youngest boy has died since, that was several years ago if Ido hear something of them I will write and let you know.
My Brother John Evans lives in Nebraska 300 hundred miles west of here, he has a good wife and four daughter and three boys, the eldest girl will be 18 next June and the youngest is a little three year old and there is a boy between every girl, he owns a farm of one 100 acres and is well to do. The oldest looks like Aunt Anne used to be, teeth and all.
My husband has poor health, if it was not for that I could come and see you, he has not walked without crutches since 1889, I am in very good health myself.
Well cousin I hope you will be able to read my letters I will send you a picture of myself it was taken some years ago but it will give some idea how I look only I some years older now, I have my own teeth so my mouth has never changed. I have not a picture of my husband he was a good looking man, his whiskers is as white as snow although he is two years younger than I am.
May I will get some soon. Hoping this will find you all well.
I am your loving Cousin
Mrs. Hetty Adamson
My address, 304 S.Harrison St.
Newton, Jasper County
Iowa, U.S.A.
When starting to reproduce the next letter I was unsure of it's date, but sadly it refers to death of my Mamgu and thus I could date the year if writing.
Ann Thomas nee Jones was Hetty Richards Mother and Hetty Adamson Auntie she died age 85 years on the 16th February, 1911 and was interred at Penyfai Chapel, Nr. Bridgend on the 20th February with her Husband Dafydd Thomas – Hetty Richards lays alongside them.
On Ann's funeral card the following verses was written :
'Twas hard to part with one so dear, we little thought the time so near, altho' she's gone, we think it best, My dearest mother is at rest.
She suffered much, but murmured not, we watched her day by day, with aching hearts, grow less and less, Until she passed away ! Her lot was hard, oh very hard ! But she feared not her doom, For well she new that there was rest and peace beyond the tomb.
Newton, Iowa March, 2nd. 1911
Dear Cousin Hetty
I received your sorrowful letter I sympathize with you.
If we got the first letter a day sooner and I told my husband that you would miss her more than any of us, I will miss hearing from her and that did me a great deal of good.
Many thanks to you, no wonder she grieved over us coming out here there was nothing here when we came but land and water and wood that is more than there is some place in America and I have often though how hard it must have been for my Mother to die and leave us children for of course she realized the dangers and temptations we would be exposed to but we faired better than many who had better chances but I am sorry I did not write sooner to you after Christmas to you so dear Aunt Ann could know how well I did take care
of my Fathers and Mothers graves, we will buried in the same cemetery. We have one monument up already to put our names on it's our children's are already there all but Arnott.
Dear Cousin I know your heart is heavy but I know it is better for Aunty to go and leave you than if you had to go and leave ones in her helplessness to bear the sorrow of her loss, she's the last one there to remember me or to know my parents so it is the best of friends must part.
Write to me again and let me hear how you are getting along. My husband is really miserable this morning but joins with me in sending
Love to you all and yours
Hetty Adamson
Newton, Iowa November 12, 1911
Dear Cousin Hetty Richards
I have been owing a letter for a long time you I suppose think by this time that you are not going to hear from me any more but you will as long as I can see to write.
Last Spring my health was very poor and it seemed hard work for me to do anything and we had a very dry hot summer and the crops were not as good as they are sometimes, but I never seen so many flies in one year as we had last summer.
Crops were not as good in Nebraska where my Brother is as they were here he was here to see us in August came the 21st and went away on the 28th he had one Thousand and 41 bushels of wheat and some corn but no oats his health is not very good.
This autumn has been nice and we have had plenty of rain it turned cold yesterday and everything is frozen up to day it has been freezing hard all day although the sun has been shinning.
Dear Cousin you ask me if we had such times as you do at Coronation time we have King to Crown everyman in America think himself a King. Every four years they elect a new President and the men spend lots of time electioneering and we celebrate the fourth of July every year because it is the anniversary of the anniversary of the Declaration of Independence of the USA. Different communities do it different ways but generally a good many get killed in America on that day every year, a good many of the people do not do myth but sport but a
good many have to work and I am one f them, that is I do my own work and we live like farmers and that is the best way for this country.
The last Thursday in November is thanks giving day all over the United States of America, that is a great day for a Turkey dinner and invite your friends, we had turkey last year but not invite anybody in because I didn't feel able to wait on them.
We are invited to a Birthday dinner next Thursday to one of our old neighbors that we used to go to Church with and our Children used to play together it will have to be warmer than it is today if we go. We are pretty well now and I hope this will find you all well and happy, my son and wife are well, write soon,
Yours loving Cousin
Hetty
Note : The following signatories on the declaration of Independence were Welsh – John Adams, Samuel Adams, William Floyd, Button Gwinnett, Benjamin Harrison, Stephen Hopkins, Thomas Jefferson, Francis Hopkinson, John Penn, Richard Henry Lee, Francis Lewis, Lewis Morris, Robert Morris, John Morton, William Williams, Arthur Middleton and Francis Henry Lightfoot Lee.
Newton, Iowa November 17, 1912
Dear Cousin Hetty Richards,
I received your letter in due time and was very glad to hear from you once more, and real ashamed that I had not written sooner, although I have not been feeling very well any of the time. From the middle of May until middle of July I had rheumatism in my knees. I never was so miserable for so long a time in all my life, I am better now but feel stiff and then there is always so much to do, that time after time, would put off writing.
Mr. Adamson has kept up and round this fall better than usual, Arnott and his Wife are well but his Wife's Mothers is very sick, she does not live with them. We had a very hard cold winter last Winter and along, but last summer was better than the summer before, and better crops, all but apples, that is in Iowa. But in Nebraska it was very dry and crops were not good there but they had enough, to do them.
My Brother and his Wife came to see us in September they came for the Jasper County Fair and then we all went to the Iowa State Fair at Desmoines.
Johns oldest daughter is here now, to make us a visit, she came a week ago last night. The other one is teaching school and gets 50 dollars a month.
The cost of living is very high here now butter is 30cents a pound and eggs are 30cents a dozen, and everything else in proportion. I sold a foul yesterday one half dollar and five cents or fifty-five cents.
I have not heard from Arthur for a long time, Arnott says he met him on a train last spring and that he was traveling for a London rug house and doing well, I though of his poor Mother when I had the rheumatism last spring, I was not down bedfast anytime, but was bad enough.
There are two women in this town who have been bedfast for fifteen years and part of the time cant feed themselves. I know you miss your
dear Mother, but it was not like was with me I my Mother, you have your family and we were amongst strangers, indeed there were not many people here at the time.
Stella, Johns girl, who is here now looks like your Mother and mine, she has black eyes and hair.
This Autumn has been very fine no cold weather to speak of some years we have had deep snow before this time.
Thanksgiving will be a week from Thursday the 28th and my birthday will be the 26th. I will be 69 years old.
Well I will close hoping this will find you well as it leaves us.
Love to all
Your cousin, Hetty Adamson
Newton, Iowa 28th December, 1913.
Dear Cousin
After long delay I am beginning to write a letter in answer to your letters. Last summer a year ago my brother and his second daughter went over several of the western states and Utah, when he came here in the fall I asked if he had seen or heard anything of uncle John or uncle Ricy, he said no and I gave him a good scolding for not hunting up Uncle Ricy, anyway for I understand uncle John had left Utah and gone to California in 1857.
So last summer after harvest John took another trip and went to this town where my uncle used to live and found my uncles widow and living on the farm which he had owned over sixty years, and John says it is one of the best in the Bear River Valley. But Uncle Ricy had been deadfive years and they told my brother that uncle John had been dead some time before that. I am very sorry I did not learn this before your Dear Mother died. John died at Oakland California and Ricy at Wellsville, Cache County, Utah. My brother goes to see his grave.
My Aunt Uncle Ricy's widow was very nice to John after he convinced here he was really uncles nephew and told him a great deal about uncle. This was his second wife she has ten children all living and the first had eight two of whom are dead. One daughter left two little boysthey are men now one of uncles sons died from a hurt he got from horse falling on him. John did not get to see any of the older children twoof them are lawyers one is a professor in a college and one is running a store in Salt Lake City and John one of the younger set has been
a missionary for two years to Ireland and Scotland and he took a year and traveled over Wales and knows more about the old farms we used to live on than my brother did, he was only six my brother when he came to this country. I don't suppose any of our relations are about Brechfa now his age is thirty years. Most of the family are married and have children of their own. My aunt was going to leave this farm and move into town, her and the youngest son Sterling, age 18, she had bought a small place of five acres but was not going to sell the farm. Dear Cousin I have longed many times years ago for some of my relations who society I could enjoy but it was not to be, so what cannot be helped must be endured.
I am very sorry I did no learn all this before dear Aunt Anne your Mother died, they had been born next to each other and grew up together. It was very different here when we came to this country to what it is now there was no railroad here for ten years after, it got here before the railroad got to Utah, and by that my uncle had died, although his daughter Hetty said she had seen him talk many times about his brothers and sisters with tears running down his cheeks and he had great desire to visit the Land of his birthplace once more but the wish was never granted. When my brother was to see me last August he had several photos of cousins and Aunt but none of Uncle, but they promised to send some when they get some copied from a picture they have of him in his prime, he was fine looking manwell dear cousin on the 16th of October I caught my foot in a piece of carpet and gave my right ankle a bad twist it is almost well now but I have suffered very much and if it had not been for that I would have written long ago. We are in our usual health now the winter is very cold so far but last summer very hot and dry here and where John is, it was more dry they did not have corn there this year but
pretty good wheat and oats.
One of Johns boys was here for four weeks in November he came together corn and made his two dollars a day easy.. I got a card not king they are all well and of the girls the second one Hetty has been teaching for two years, this winter she is attending the State Normal School at Persym Nebraska, thinking she can get a better position is she is qualified for it.
My son Arnott had a hard spell off sickness last summer and don't feel as well as he did before but is around practicing his profession, There is some small pox in Iowa some fatal quite a few sudden deaths Dear Cousins I hope you will be able to read most of this letter I am a poor scribe at best and this paper is not lined, Oh yes I received L.M photos for which I am truly thankful we join in wishing a happy and prosperous year and everything that is good. I also received your letter with the picture of your house and think it nice out here they
don't build them so close together but in the city they are 20 story's high.
I like two story house best L.M. grows better looking as she grows older
Hoping this will find you all well and that you will write again soon. I will close
Your affectionate cousin
Hetty Adamson
L.M. is Hetty Richards daughter Elizabeth Mary affectionately called Lizzie Mary she married Jenkin Thomas and became Mrs. E.M. Thomas she kindly gave me the originals of the letters from Hetty Adamson to her Mother.
306 E.8. TS.S.
Newton, Jasper County
Iowa, U.S.A.
January 17th, 1915.
Dear Cousin Hetty
I received your kind letter of Nov 21st, and see now that January is more than half gone and I have not answered it. I am owing everybody letters, I am sorry you were not feeling very well, and hope you are better before this. I too was felling bad about that time. Mr. damson was sick almost through September and October, and has been usually poorly all winter, he can get up and come to the table to eat, and that is all I am thankful be can do that.
My brother came to see us the first of September and stayed a week I was sick the night before he came, and not very well all the time he was here. There was another many here that used to be a boy with John when John was a Boy, visiting his sister. He died in a hospital in Missouri on 6th sixth and was brought back here and buried last Sunday, I received a letter from John last week, they are all well we hada very hot summer but this winter has been very nice.
So far my foot hurt me all last winter, but is all right now, and I am felling all right now but cannot stand to do much work. I am sorry your Maggie does not have good-health for that is worth everything, I hope she is better by this time.
Everybody is sorry that war is going on and we know what war is although it was not so bad here in the North as it was in the South. It was bad enough I don't want to see any more of it, I thank you for your sisters pictures and little children, they look nice I sent the letter to John and just got it back. I don't write to cousins in Utah they are all Mormons one of them a Lawyer, goes to Washington D.C. buthe never stopped in Newton that I know of.
Well Dear Cousin, so many people have come in I hope you will be able to make this out. I received Lizzie Mary's Christmas Card andthank her for it, I am glad Arthur Roberts is coming home it will be comfort to his Mother. I am sure I have received papers from there and have several, do you get them.
I hope the war will cease soon
Lovingly yours
Your cousin
Hetty Adamson
Newton, Iowa. December 9, 1915
Dear Cousin Hetty Richards,
I have been thinking for weeks I would write a letter for you, but something else would have to be done and so the time would pass. You saidin your last letter that it was in February you heard from me, very soon after that Mr. Adamson and I were taken sick with the gripe, I just had the gripe real hard and for 29 days the Doctors did not give us much hope, that we would ever be any better and he recovered very slowly and we were both very week all summer. I can see I have aged like everything in the last year, we are pretty well now and the weather has been fine this Autumn, last summer was not as hot as usual and is not so cold as usual now, and only a very little snow.
It was not hot enough last summer for the Indian corn to ripen good, The wheat and oats were fairly good here, in some place the ground was so wet they could not cut it with the machine.
My Brother wrote, wheat and oats was poor yield out there, and the corn a good yield, but would be soft, when its that way it wont keep good.
We had two of my brothers daughters Hetty and Lock Evans here this summer for two weeks. Hetty had just got through teaching a nine month school and Locky nine month in high school, she is in her third year in high school now. They went home on the 3rd of July, John went to California and got home all right, but last month he and the two youngest children Leslie and Belle started to town after supperin a one horse carriage, the horse got scared at a motor bike and jumped to one side and went to kicking upset the buggy and threw
John out and broke several ribs, he was badly hurt, but was getting better and able to be up the last we heard, the rest were all well except Chainey the oldest boy who is working in a bank in Omaha, he had to go to hospital and be operated on for appendicitis, on the 13th of last month, was very sickbut got along very well and was thinking of going back to work last week.
Dear Cousin I hope your son wont enlist, I know what temptation it is when there is war. I and everyone in this country feel very sorry for the people over there and we are afraid they will draw America into the general war, it is a terrible thing but it seems there has got to be war every so often. When the column was broke Arnott came from college in the middle of the night after he had gone upstairs to be his Father said, I wonder if he don't think of enlisting. He had just been home two weeks before to celebrate Easter sure enough that was wheat he intended to do but he said he thought he should come ad see what we thought about it.
I said just look at your Father, who has never seen a well day since the war. Well he did no enlist although several from here did and some never came back.I received several papers from you for which I thank you. Did Arthur Roberts ever come back to see his people or not, I have not heard a word from him since you wrote, they were looking for him, that is a long time ago.
We had what they called a home coming from the 4th to 9th of October 1915 and people from all over who used to live here came.
Two women from Utah, one of them was raised here came and stayed with us and her Brother from Dallas, Center, Iow3a and a sister from Desmoines came also, and Mrs. A. Donald a daughter. Dr. Jabes Green who used to live here came and all stayed with us.
I was pretty tired, it was over the great parades, the biggest Newton, ever had and it was nice for the young. That Woman from Utah, said your cousins in Utah, are prosperous, but Uncle Ricys eldest daughter suffers greatly from rheumatism. Did you know my Mother used to suffer greatly with that and there are two women in this town now who cannot feed themselves. So you and I have much to thankful for, though we
are getting old. Write when you can, Love to all
Yours cousin
Mrs. Hetty Adamson
A small note undated place in one of the letters :
Dear Cousin I have not heard from Arthur since before I heard from you last, do you know if he in this Country yet I felt sorry for him when you wrote to me I wish you would let me know.
I have not heard from anybody there since you wrote.
Love to all, Hetty Adamson
Below is a letter from Hetty Richards to Hetty Adamson it would be marvellous if there were more to find !!!!!
47 Gwuan Bant
Pontycymmer
Glam – S Wales
December 24th 1917
Dear Cousin Hetty Adamson
I dare say you will be surprised to hear from me after all this time.
I am very sorry I haven't written before but my husband and I have been very ill the beginning of this year and he is still suffering a great deal with his chest. He has not been able to follow his work much this year, but I am glad to say he is a little better now. I have come very good again and am able to do my housework very well only I suffer from rheumatism all the time.
Well dear cousin I hope you and your husband are still enjoying good health also your son Arnott, how is he now ? also I should like to know how is your brother John getting on and his family, are they all in good health ?
My son is still a soldier like all the young men of our Country and is now in Egypt somewhere near Jerusalem after training in this Country for two years. We hear regularly from him and the letters are very interesting, all about the Holy Land. He has beenrather lucky although he was sent so far away and we are not likely to see him for two years at least as they do not get 'leave'from there as often as from France. He is in the Sanitary Section of the R.A.M.C as an inspector, and does not go into action at allonly following up the advancing armies and clearing it out of any bad smells in case of plagues breaking out.
I see by the papers that America is doing her best to help the Allies and we see several of the America troops over here all looking quite fit. I hope this war wont last much longer as there is a great shortage of everything here especially foodstuffs although we cant complains we are far from being in want, and this Xmas finds us able to celebrate it in the good old way as usual. Has any of you people enlisted at all ?
Thanks very much for the newspapers we received from you as we found them very interesting.
My oldest daughter who is married has moved away from here to the Swansea district, not so far from Carmarthen and is living in a very nice place. My husband and I spent a week with them in the summer. Her husband is under manager in a very large colliery down there and is getting one very well.
Well dear Cousin I don't think I have any more news to tell you. Hoping this will find you both all right and that you will forgive me for not writing before
I'm afraid this will not reach you in time to wish you a Merry Xmas but I can you all good wishes for the New Year.
We haven't heard anything from John Roberts, Neath about his son Arthur and I don't think he has came back to this Country
Trusting to hear from you soon
With Kind Love And Best Wishes
From Your Cousin Hetty Richards
Address :-
3 Roseland Villas
47 Gwaun Bant
Pontycymmer
Glam, S Wales
Biography
Taken from Past & Present of Jasper County Iowa
B.F. Bowden & Company, Indianapolis, IN, 1912
Abraham Adamson
One of the best known of all the early settlers of Jasper County, as well as one of the most sincerely revered, is the subject of this review. A volume of the keenest interest might well be written of his long and useful life did space permit, and it would indeed be a difficult task for the biographer to say more in praise of Mr. Adamson than is his due.
To begin with, his birth was peculiar, he having been born while his father and mother were, the cavalcade of settlers was halted there, at the home of settler named Ingerman, in MarionCounty, Iowa, March 31, 1846, the subject of this sketch was ushered into the world.
His father, Evan Adamson, a native of Tennessee, and his mother Elizabeth Miller, a native of North Carolina had been married in Madison County, Indiana August 4, 1835, removing to Plat Purchase, Missouri, where they remained until 1846. With the family came Abraham Adamson, the grandfather of the subject; James Etchison, and Jessie Rickman, who was afterwards elected judge of Jasper County. Trips were usually made in old 'prairie schooners' of pioneer days, but Mr. Adamson had a spring wagon for his family. Many and varied were the incidents and adventures the emigrants encountered along the way. Indians were plentiful, as well as bear, deer, wolves and buffalo, and the streams crossed were, many of them, wild and un-bridged torrents. The family settled upon a considerable tract of raw timber and prairie land surrounding what has since been known as 'Adamson's Grove,' which land the father had secure from the governmentupon a trip made prior to the coming of the family.
Of the hardships and privations endured during those early years much might be said. A small log cabin was built and, with few comforts, the family set to work to carve out a home in the new and wild country From the first the father was a leader of this time, taking active part in the advancement and development of this County and state. He it was who furnished and hauled the timber from which the first courthouse was built in Newton.He was also either the first or second sheriff of the County, director of schools,
justice of the peace, constable and held many other offices and positions which he filled with credit during his long and useful life,. Everyone in the County knew 'Uncle Evan,' as he was enduringly called. He died six miles southeast of Newton,in Buena Vista Township, May 26, 1899 at the advanced age of ninety-one years and four months.
Mr. Adamson, the subject, is one of nine children, six of who, are living : FrancisM. died at the age of twenty-eight; Mary Ellen departed this life at the age of fifteen; Sarah Ann, widow of W.W. Richards, resides in Adamson's Grove; Clarinda Bushey, wife of Frank Bushey, resides in Colorado; the next in order of birth is the subject of this sketch; Evan, unmarried, lives with his sister, Mrs. Richards,Joseph died in infancy; Elizabeth Thompson, wife of S.A. Thompson, resides in Manchester, Iowa; Martha Ellen Reno, widow of L.J. Reno, resides in Des Moines, Iowa.
At the age of sixteen the subject of this review attempted to enlist in the Northern Army,but was rejected on account of his size and age. However, determined to be a solider, he went along with the regiment as aid to the captain, a cousin of his father. This was in the spring of 1863. In the fall of that year he returned home and the following spring he enlisted
at Newton on may 21, 1864, in Company B. , Forty-eighth Iowa Infantry, under Capt.Joseph R. Rodgers. He was mustered out September 29, 1864, for re-enlistment in Company G,Seventh Iowa Cavalry, which company was under command of his father's cousin. Up untilre-enlistment, Mr. Adamson was engaged at Davenport, Iowa, guarding rebel prisoners, but upon re-enlistment he was order to Omaha, thence to Fort Kearney, Nebraska,
a distance of one hundred and ninety miles , which was made on horseback without saddles,from there to Cottonwood Springs, Nebraska, where the winter was sent doing scouting duty in the Indian troubles then raging. When spring came, he and thirty comrades were ordered to Cow Creek, Kansa, by way of Fort Leavenworth, and here it was on the second day out that
their wagons and train was attacked by a band of Indians far outnumbering themselves,and a fierce fight ensued in which the soldiers narrowly escaped massacre. Finally, when nearly surrounded, they succeeded in killing the chief and this so demoralized theIndians that they fled. That night Mr. Adamson took suck wand was taken to the hospitalat Fort Kearney. Eager to join his company, he left the hospital before he should have done so and attempted to overtake his comrades, but the flesh was too weak, although
the spirit was strong, for at For Leavenworth he was too sick to go further and was mustered out of the service July 31, 1865, receiving an honorable discharge. From thattime on Mr. Adamson has been sick more or less and is today a confirmed invalid, the wood Springs to Fort Kearney, he was forced to sleep on the ground in the middle of January without tent of veering of any kind, and could hear the ice on the Platte riverpopping with the cold. During his first enlistment, Mr. Adamson was made corporal of his company. He is a member of Garrett Post No. 16, Grand Army of the Republic, of Newton.
At present he is leading a retired life in Newton, owning a most elegant and comfortable home there as well as considerable land in the County. He also draws a pension of seventy-two dollars per month. On July 5, 1868, Mr. Adamson was married to Hetty Evans, daughter of John and Margaret (Jones) Evans, both natives of Wales, Mrs. Adamson being born there. Her family came to America in 1856 in the good ship 'Sam Curling,' a cotton ship which
carried cotton to Europe and returned with passengers. They were five weeks on the way and two passengers died in crossing. Landing in Boston Harbor, the family started for Utah to join the Mormons, they having accepted the faith in Wales, where it was extensively preached,but upon arriving in Jasper County they learned of the practice of polygamy and some other
things which had not been mentioned in Wales by the Mormon teachers so the new religion was discarded and the family settled in Jasper County, Mrs. Adamson being at the time twelve yearsof age, having been born November 26, 1843. The first year after landing America, the mother died in Iowa, January, 20, 1857, at the age of forty-two, after which Mrs. Adamson kept house the death of her father and mother, Mrs. Adamson made her home with John and Mary Davis until her marriage they having no children. Mrs. Adamson is one of three children, the eldest of whom died in infancy; John Evans, a brother, resides n Fairmont, Nebraska, being a successful farmerwith seven children. He was born August 27, 1849, and was married in 1888 to Clara B. Newton.
To Mr. & Mrs. Adamson have been born three children, all boys, of whom but one is living: John born October 27, 1869 died November 22, 1869; Everett, born December 12, 1870, died May 29, 1887;Arnott Abraham, born January 7, 1874, is a prominent veterinary surgeon of Newton, being a graduate of McKillip College of Veterinary Surgery of Chicago, of which institution he is an honorary member of the faculty. He married Elizabeth A. Burnside, a native of Iowa November 28, 1900.
Mr. Adamson the subject of this sketch s a Mason, being member of Lodge No. 59, Gebel Chapter No.12 and Commandery No.22 of Newton. Mrs. Adamson is a member of the Woman's Relief Corps No.3, Auxiliary of Garrett Post and also Newton Chapter No.100, Order of the Eastern Star. She is also a member of the Christian Church of Newton but was christened in the Episcopal Church of Wales. She is a most charming and interesting woman.
I have a copy of one letter that John Evans wrote to his Uncle Ricy – Ricy Davies Jones in Utah. John was Hetty's brother and the son of Margaret & John Evans, he farmed at Lincoln, Nebraska – this letter was written whilst he still lived in Iowa, he like his sister was born in the Brechfa and traveled to America as a child :.
March, 1879 and the 14th Day
Newton, Iowa,
Dear Sir,
I received your kind letter and was glad to hear from you and if I new that you was y Uncle I would be gladder I am in hope these few lines will find you well as it leaves me now my Mother was name Margaret Jones and how many sisters have you and how manyBrothers and what is their names and what was your Mothers name before she was married and tell me when you came out here and who came with you and give me your sister address in full, my Father is dead about 15 years ago My Mother died in the year of 1856and on the last day in the year and left 2 children my sister and I, Hetty and John. Hetty was married 10 years ago and she has 2 boys, well now Jones don't know anything about the money or the deaths for I was small but I will ask Hetty about them when I go down this is all I can think of now so I will bring my letter to a close for this time, please write soon.
Yours truly Ricy D Jones
from John Evans, Newton, Jasper Co. Iowa
EVAN born 1819 died 1899 the faithful son who stayed home in the Brechfa, he must have given his parents great pleasure in life that he didn't have the wondrous spirit to flee to the new World America or to the Industrial Valleys of South Wales.
Evan married Sarah Lewis (Pant) born 1820 died 1896 they farmed at Blaen Cwm in the hills above Maesybidiau and had eight children.
Many of the descendants of Evan & Sarah still live and farm in the area
Evan & Sarah
………………………………………………………………………………………………………………………………………………………………………
Thomas Elizabeth Mary Hetty John Daniel Evan David
Batchelor born 1844 born 1845 born 1848 born 1850 born: 1852 born 1863
born 1863 died 1935 Spinster died 1924 died 1934
married married married married married
1st. David Jones Wm. Davies Ann Evans Ann Jones Jane Thomas
2nd James James ' 1852-1923 …………… 0000-1916
1854-1927 ' ' '
.................................................................................... Evan Sarah-m- ? Davies '
' ' ' ' ' ' ' ' '
Elizabeth David Sarah Kate Wm.Evan Daniel Hetty Mary ...........................................................
' Rachel Ann Daniel David Evan
' School Teacher
Based Llanelli, Carms, kept furniture shop Station Road Spinster married
' Ann Lloyd
……………………………………………………………………………… '
David Evan Thomas Daniel Elizabeth' David Lloyd
Born:1879 1884-1952 married 2 children
Died: 1960 married living Maeslan Farm
married Wm. Davies Llansawel, Carms.
Miriam Jones '
1885 - 1967 Gwennie:Vennie:Wm.John
' all died un-married ………………………………………………………………………………………………………………………………
' ' ' ' ' ' ' ' ' ' ' '
Ann Mary Simon Idris Eliz.Agnes Olwen Miriam Eluned Sarah Alma Thos.John
-married- '
Olwen Pritchard ..................................................................
3 children ' ' ' ' '
Living Carmarthen David John Evan Lewis Sarah Jane
Born 1896 married married
Blaencwm Farm Eliz. Ann John Thomas
Tailor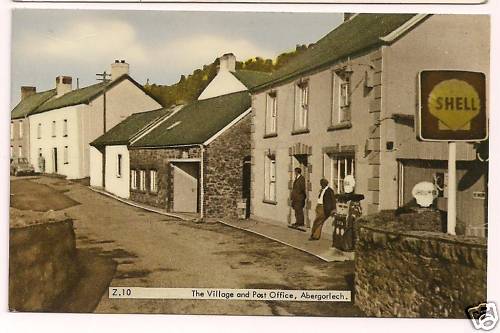 Gwennie Davies was Postmistress of Abergorlech Post Office
her sister Vennie was headmistress of Llandei School
More to follow .................................................................