Fairfield Motorsport Wexford Motor Club
Wexford Stages Rally 2017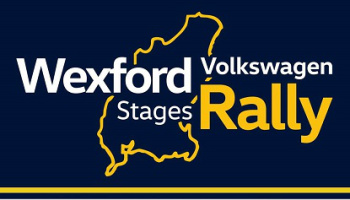 Wexford Stages Rally
Wexford Volkswagen Stages Rally
9th / 10th September, 2017
Wexford Stages Rally
Entry Fee for the 2017 Wexford Stages Rally
699 Euro plues 375 Euro Insurance = Total 1074 Euro
The Wexford Rally organizers are offering an easy payment option
The 2017 Wexford Stages Rally will consist of 15 Stages over Saturday and Sunday giving the competitor 220kms. of stages.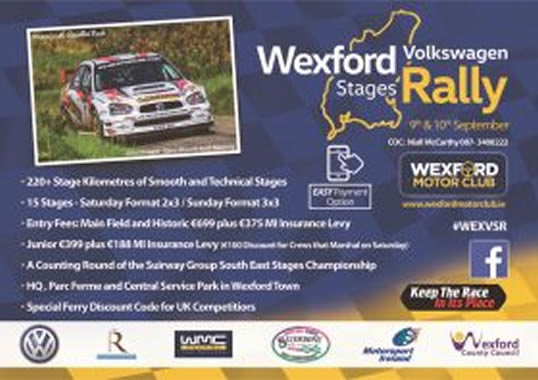 Fairfield Motorsport have pleasure in presenting the following information on the
Wexford Volkswagen Stages Rally one of Ireland most popular car rallies
Logistics
The Wexford Stages Rally runs in close proximity to Rosslare Harbour making the Wexford Car Rally one of the easiest of the Irish Tarmac Rallies to access for Competitors and Spectators from the UK to enjoy.
Port Distances
Rosslare Harbour

12miles

Dublin Port

88miles

Dun Laoghaire

85miles

Cork

113miles

Belfast

220miles

Larne

222miles

Airport

Closest Air Port

Waterford

41 miles
The fastest and most popular crossing to the Wexford Stages Rally is on Stena Line Fishguard to Rosslare which takes 3hrs. 30mins the full time table is as follows :
Sailings times :
Outbound from Fishguard to Rosslare 13.10 and 23.45
Returning from Rosslare to Fishguard 08.00 and 18.10
Crossing time 3hrs. 30mins.
Stena AdventurerOutbound from Holyhead to Dublin 02.30 and 13.50
Stena Adventurer Returning from Dublin to Holyhead 08.20 and 20.40
Crossing time 3hrs. 15mins.
Stena Superfast X Outbound from Holyhead to Dublin 08.55 and 20.30
Stena Superfast X Returning from Dublin to Holyhead 02.15 and 15.10
Crossing time 3hrs. 15mins.
Outbound from Cairnryan to Belfast 04.00 07.30 11.30 15.30 19.30 & 23.30
Returning from Belfast to Cairnryan 07.30 11.30 15.30 19.30 and 23.00
Crossing time Approx. 2hrs.15mins
Accommodation
Fairfield Motorsport are offering travel packages on their Merlin Wonders web site
to view the offer for the 2017 Wexford Stages Rally please click here
| | |
| --- | --- |
| Rally Headquarters is in the Riverbank House Hotel, Wexford City. Excellent logistics extend to accommodation with an abundance to self catering cottages available in the Rosslare Strand area, high quality hotels and Bed & Breakfast facilities in Wexford and its surrounding area. | Riverbank House Hotel, Ireland |
We are also offering excellent spectator packages to the Wexford Stages Car Rally
for details of these packages please visit our Merlin Wonders web site please click
here for more information ..................
Car Hire
Budget Car Hire

Rosslare Harbour 00353 876629538

General Number 00353 539133318

E-Mail : info@budgetsoutheast.com

Hertz Car Hire

Wexford and Waterford Airport

Tele: 00 353 53 9152500